Veiled Freedom: A Novel
Jeanette Windle, Author
Friday, June 05, 2009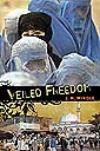 "Craig Laube, logistics manager, Condor Security. Call me Cougar. And you're Steve Wilson, security chief for our new PSD contract." The file with attached photo in his hand explained why his statement included no question mark. "If you'll come with me, our fixer's made arrangements to fast-track your team. The rest came in on the New Delhi flight. They've already left for the team house."
The fixer evidently referred to the Afghan in suit and tie who plucked Steve's passport from his hand, tucking a local currency note inside before moving to the front of the line. On the nearest wall, a sign advised passengers to report any requests for bribes to airport security. Not that Steve suffered any qualms of conscience at following on the fixer's heels. In his book, a bribe involved paying someone to break the law. Tipping local bureaucracy to speed up what they should be doing anyway was a survival tactic in every Third World country he'd known.
At least fast-track was no exaggeration. The line had barely inched forward when they left the security area, entry stamp in hand. The scene was repeated at customs, where Steve's two action packers and duffel bag were waved through without a glance. A grin tugged at Steve's mouth as he took in a bright head still far back in the first line. The woman from the plane looked frustrated, one small boot tapping impatiently, and only too conscious of the stares her wardrobe choices were attracting.
Dismissing the hapless blonde from thought, Steve followed Cougar across a parking area to a black armored Suburban. The Afghan driver already had the engine running. Though an unnecessary swarm of porters had accompanied the baggage trolley, Steve counted out a bill into each outstretched hand. "Tashakor."
Steve's thank you engendered beard-splitting grins as the porters scattered.
Pulling his head from inside the Suburban, Cougar raised bushy red eyebrows. "So you speak Dari. I'd understood this was your first contract in Afghanistan."
"It is." Steve sliced into one of the action packers. The tactical vest he strapped on was not the screaming obvious black of a private security detail, where you wanted unfriendlies to know you were on alert, but a discreet utility vest style. "But I was in Kabul during liberation. And after. Picked up a fair amount of Dari and Pashto along the way. I assumed you knew that's why I pulled this contract."
"Sure, your bio says Special Forces. So you were Task Force Dagger, first boots on the ground, all that. That must have been a trip." Cougar studied his taller companion's clipped dark hair and deep tan. "Your coloring, I'll bet you pass as a native if you grow a beard. Gotta be useful in these parts. When did you make the jump to the private sector?"
"I was in Afghanistan about eighteen months. Got tired of being shot at and switched to a Blackwater private security detail. Then ArmorGroup embassy detail. Back to PSDs. Most recently Basra in southern Iraq. That was Condor Security, and when this came up, they gave me a call."
Steve could have added, "And you?" But his contact info had included a bio. Craig "Cougar" Laube had done an Army stint a lifetime ago, then put in twenty years with NYPD, more of them behind a desk than on the street. A second career as a security guard hadn't proved lucrative enough to support an ex-wife and three kids because he'd jumped at the post–9/11 boom in the private security industry.
Strapping on his own tactical vest, Cougar retrieved M4s and Glock 19 pistols for both from the back of the Suburban before handing Steve a manila envelope. So the guy had his priorities right.
The SUV's air-conditioned interior was a far more comfortable ride into Kabul than the dust and jolting of an Army convoy. As the Afghan driver eased past a mounted Soviet MiG fighter jet that marked the airport entrance, Steve rifled through the manila envelope. Mini Bradt Kabul guide. Dari-English phrase book. List of embassy-cleared restaurants and lodging. An invite to an open house Thursday evening at the UN guesthouse. It was a welcome packet! Underneath were some blueprints and a city map.
Have something to say about this article? Leave your comment via Facebook below!
advertise with us
Example: "Gen 1:1" "John 3" "Moses" "trust"
Advanced Search
Listen to Your Favorite Pastors