Veiled Freedom: A Novel
Jeanette Windle, Author
Friday, June 05, 2009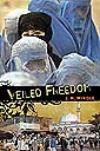 "The diagrams are your two primary security zones." Cougar carried his M4 unslung, looking out the double-paned windows as he spoke. "How much did they fill you in?"
Steve stuffed the material back into its envelope, retaining the blueprints and a personnel data printout. "Just that CS picked up a private security detail for some Afghan cabinet minister, and they want me to pull together a team ASAP. So who is this guy, and what's the big rush?"
"Our principal's the new minister of interior. He figures he's got a bull's-eye painted on his back. Which isn't such a stretch when you consider what happened to his predecessor."
"You're talking the sugar factory bombing." Steve straightened up with sudden alertness. Bombings had become a dime a dozen lately in Afghanistan, but that incident had been significant enough to make international news. Reopening a sugar factory in the northeastern province of Baghlan was the crown jewel in an alternative development program intended to soften the impact of the U.S. counternarcotics campaign against Afghanistan's proliferation of opium poppy. A number of dignitaries had been on hand when a bomb went off inside the factory. With more than fifty killed and hundreds wounded, it had been the largest single-incident civilian death toll since liberation.
"Sure, I saw the minister of interior on the list of VIP casualties. And weren't there Americans involved too? But that was more than two weeks ago."
"It's taken this long to get all the ducks in a row. There weren't any American casualties, but a helicopter load that included embassy and DEA reps had just touched down for the ribbon cutting when the bomb went off, one reason the incident got so much international press. In fact, the chopper belongs to the current minister. If he hadn't forgotten his briefcase in the chopper and just happened to turn back, there'd be two dead ministers instead of one.
"What makes this more interesting is that the late MOI had just been in office a couple of months himself, appointed when his predecessor was removed for gross corruption and incompetence. Only after plenty of pressure from the West, I might add. The MOI's by far the most powerful cabinet seat, just short of the president himself. It oversees the Afghan National Police, counternarcotics, the country's internal security, and provincial administration. Which includes appointing the governors and regional law enforcement officials."
Steve let out a low whistle. "So what's left for the president?"
"There's a reason they call our friend in the Presidential Palace the mayor of Kabul. Not that anyone really runs the provinces except the provinces themselves. A lot of people point to MOI for Afghanistan's current security failings. Not that there isn't plenty of blame to go around, but the Afghan National Police are a joke, and too many provincial officials are former warlords up to their own ears in drug trafficking. Our late MOI had made it his mission to clean house and rein in the regional warlords."
That drew Steve's sharp glance from the data sheets. "You don't think—"
"The sugar factory bombing could be payback—or just the local opium cartels trying to stamp out competition. But the new MOI's taking it personally. He asked for a personal security detail as soon as he nailed the promotion. No local bodyguards, either. They might be infiltrated. Western. And since Khalid's a former muj commander—"
"Khalid!" Steve interrupted. "Khalid Sayef?"
"That's right." Cougar looked at Steve. "Hey, come to think of it, Khalid was part of the coalition that took Kabul. Any chance you ran across him?"
Have something to say about this article? Leave your comment via Facebook below!
advertise with us
Example: "Gen 1:1" "John 3" "Moses" "trust"
Advanced Search
Listen to Your Favorite Pastors