Velvet Steel: The Joy of Being Married to You
John Piper, Author
Tuesday, May 19, 2009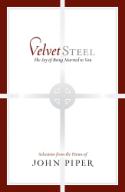 EDITOR'S NOTE: The following is an excerpt from Velvet Steel: The Joy of Being Married to You: Selections from the Poems of John Piper (Crossway).
Introduction
All but two of these poems were written for Noël in the first forty-two years of our relationship, starting from the day of our engagement. The other two are by Noël.
Most of them are excerpts from longer poems. The reasons for not including the whole poems is that some are too long and my aim is to give tastes, not meals—tastes of one man's affections for his wife.
I put this collection together in the days immediately after writing a book on marriage called This Momentary Marriage: A Parable of Permanence. This collection of poems completes that book. What seemed to be missing there was the taste of my affections for Noël.
In fact, the point of that book was that covenant-keeping, not the affections of being "in love," is the main point of marriage. But I also emphasized that tough-minded covenant-keeping is the best soil for the long-term flourishing of tender affections. Therefore, it seemed helpful that I give some tastes of what those affections were like over the last forty-two years.
Why poetry? Because poetry helps me intensify and express feelings that cannot be captured sufficiently in ordinary language. In fact, my definition of poetry is: an effort to share a moving experience by using language that is chosen and structured differently from ordinary prose.
Being in love is a very moving experience. It is like a river that over the years has rushing currents, crashing waterfalls, deep peaceful flows, eddies that swirl with scum, windblown backward drifts, surface heavings from boulders beneath, and long clean stretches of open water.
Not even poetry can render this reality in another form. But some of us must try. It is built into us humans that we must try to express the affections of love in ways that are not like the affections themselves.
We do it with songs, paintings, sculpture, drama, novels, woodwork, flower arrangements, purchased roses, notes left on the dresser, eating out, bed-and-breakfast weekends, repairing the leaky faucet, dressing up, sexual favors, special gifts, surprise phone calls, visiting concerts, movies, museums, gardens, oceans, mountains, and a hundred other ways.
My prayer is that these small tastes of my imperfect affections will fan affections into flame—for God, for your spouse, and, in every fitting way, for all the treasured people in your life.
Marriage is a parable of something greater than itself—the covenant-keeping relationship between Christ and his church. Christ's love for his church was tough enough to keep him on the cross until our purchase was finished.
But it was also tender and warm. Already through the Old Testament prophet, God gave this expression of affection:
How can I give you up, O Ephraim?
How can I hand you over, O Israel? . . .
My heart recoils within me;
My compassion grows warm and tender.
(Hosea 11:8)
May God cause such tender shoots of affection to grow in the covenant-keeping soil of your life. May the fullness of Christ's love be known and shown in the wholeness of every marriage bond.
John Piper
To Come and Capture Me
My love for you, Noël,
will drive me to pursue
with God and you
the one pure love and unity
that God's own Son
did show in birth and death for us.
As He Cast off His glory once
to capture me,
so would I shed my freedom now
to gain
Noël.
Have something to say about this article? Leave your comment via Facebook below!
advertise with us
Example: "Gen 1:1" "John 3" "Moses" "trust"
Advanced Search
Listen to Your Favorite Pastors