Velvet Steel: The Joy of Being Married to You
John Piper, Author
Tuesday, May 19, 2009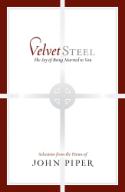 To a Diamond on Our Engagement
Dim Shadows of a brighter heart:
These nervous specks of color,
This little world of light;
These minute brilliances,
Yet they can sing!
So sing to her,
You little brilliances,
You timid colors,
You twinkling cosmos.
Sing to her!
Of God and Heaven,
Of life and Hope.
Sing to her!
Of high thoughts,
Of heart's capacities
Beyond your own crystal
realities.
Sing to her!
Of love
Of being loved
With Love more lucid than
yourself
And purely sing,
My little shadows,
And purely sing
Of me.
A Whispered Yes
Stunning sometimes to ponder
that all my future knowing
and all my future doing
will be a knowing-with and doing-for;
that you love me enough,
and love me yet,
to whisper me a Yes with your life.
She Kneeled to Be His Wife
Strength comes in all colors
even pink and purple.
I have seen Strength lie down—
like a Bulldozer.
I have seen her walk behind—
with the checkered flag.
She has given way to a feather's weight
and lifted mountains with ease.
Strength is a mystery creature
a man might give her his life.
For one, before he could reach her,
she kneeled to be his wife.
The Christian Hedonist Takes a Wife
Our God has made another way
To put his glory on display.
His goodness shines with brightest rays
When we delight in all his ways.
His glory overflows its rim
When we are satisfied in him.
His radiance will fill the earth
When people revel in his worth.
The beauty of God's holy fire
Burns brightest in the heart's desire.
I am a Christian Hedonist
Because I know that if I kissed
My wife simply because it's right,
And not because it's my delight,
It would not honor her so well.
With pleasures I will praise Noël,
And I will magnify my wife
By making her my joy in life.
So may this blazing, God-like flame
Ignite in us for his great name
A holy passion, zeal and fire
That magnify Him with desire.
I hail Him as my joy in life,
And take from his pure hand my wife.
Heartbeat the Morning of Our Marriage
Can I despise or doubt his wisdom
who, for ten thousand years,
has made of mortal men
bold conquerors of crisis,
who, from raw human trembling,
has forged finished victories?
Let him rage.
The sound of timid men fades like an echo;
only his thundering rings in history's ears.
Our Wedding Text
Habakkuk 3
Although the fig tree blossom not,
And all the vines of our small plot
Be barren, and the olive fail,
The sheep grow weak and heifers frail,
We will rejoice in God, my love,
And takes our pleasures from above:
The Lord, our God, shall be our strength
And give us life, whatever length
On earth he please, and make our feet
Like mountain deer, to rise and cleat
The narrow path for man and wife
That rises steep and leads to life.
Velvet Steel: The Joy of Being Married to You: Selections from the Poems of John Piper
Copyright © 2009 by Desiring God Foundation
Published by Crossway Books, a publishing ministry of Good News Publishers
1300 Crescent Street Wheaton, Illinois 60187
All rights reserved. No part of this publication may be reproduced, stored in a retrieval system or transmitted in any form by any means, electronic, mechanical, photocopy, recording or otherwise, without the prior permission of the publisher, except as provided for by USA copyright law.
Have something to say about this article? Leave your comment via Facebook below!
advertise with us
Example: "Gen 1:1" "John 3" "Moses" "trust"
Advanced Search
Listen to Your Favorite Pastors