What Does the Bible Say About That?
Carolyn Larsen, Author
Wednesday, March 04, 2009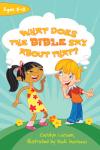 Having gifts that differ according to the grace given to us, let us use them: if prophecy, in proportion to our faith; if service, in our serving; the one who teaches, in his teaching; the one who exhorts, in his exhortation; the one who contributes, in generosity; the one who leads, with zeal; the one who does acts of mercy, with cheerfulness.
Romans 12:6-8
Well done, good and faithful servant. You have been faithful over a little; I will set you over much.
Matthew 25:21
Time to Face the Facts
You have what you need to serve God. He gave you the tools, but you must develop those abilities. Never fear, though—the seeds are there. Think about what you love to do . . . what brings you joy and what others say you are good at. That's a good tip as to what God has given you.
Today I Will…
Stop wishing I could do other things and start working at what I'm good at. Ask God to show me how I can use my abilities to serve him.
3. ABUSE
What Does the Bible Say About Abuse?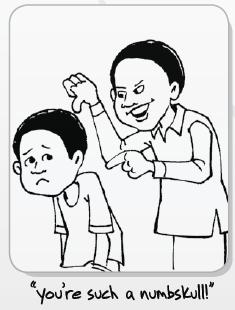 Abuse is no fun. It comes in different forms. It might be from someone constantly telling you that you're worthless. This constant assault of negative words tears down your self-image and confidence. Abuse can also be physical—being slapped around. Whatever it is, abuse is painful. God doesn't want you to suffer from abuse. He loves his children, and he tells his children to love one another. God's plan is love.
What the Bible Says
So whatever you wish that others would do to you, do also to them, for this is the Law and the Prophets.
Matthew 7:12
Love does no wrong to a neighbor; therefore love is the fulfilling of the law.
Romans 13:10
Love is patient and kind; love does not envy or boast; it is not arrogant.
1 Corinthians 13:4
Time to Face the Facts
Abuse of any kind is wrong. If you are the victim of abuse, it would be a good idea to tell someone you trust. Your teacher or pastor would be a good place to start. Also, learn from these verses that being the abuser is wrong. God's desire is for you to love people around you, not hurt them.
Today I Will…
Talk with someone about my situation if I am the victim of abuse. Think about how I treat others. If my behavior is abusive, I will change it . . . with God's help.
4. ADDICTIONS
What Does the Bible Say About Addictions?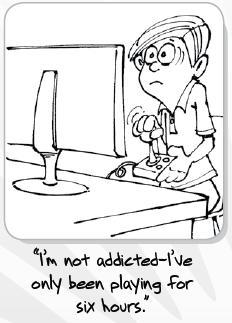 Imagine having a big, heavy chain wrapped around your ankle. The other end of the chain is attached to a tree. So, you're tied up, can't get away. That's what addiction is like. It controls your thoughts and actions. There are different kinds of addictions: drugs, alcohol, food, Internet, approval are a few. How does God feel about addictions? God wants to control your life. He doesn't want you to be controlled by whatever you are addicted to.
What the Bible Says
For the LORD your God is a consuming fire, a jealous God.
Deuteronomy 4:24
No one can serve two masters, for either he will hate the one and love the other, or he will be devoted to the one and despise the other.
Matthew 6:24
Do you not know that if you present yourselves to anyone as obedient slaves, you are slaves of the one whom you obey, either of sin, which leads to death, or of obedience, which leads to righteousness? Romans 6:16
Time to Face the Facts
Honesty time: What's controlling your thoughts and actions? Is it God or something else? If there's one thing you plan your life around—one thing you must do every day—then you have an addiction. Bottom line is God wants to be number one in your life. He is jealous of anything else.
Today I Will…
Be honest. I will evaluate how I spend my time and admit if there is something that has pushed God out of first place in my life. I can't change that by myself, but I will ask God to help me. His strength can beat anything!
5. AMBITION
Have something to say about this article? Leave your comment via Facebook below!
advertise with us
Example: "Gen 1:1" "John 3" "Moses" "trust"
Advanced Search
Listen to Your Favorite Pastors