What Does the Bible Say About That?
Carolyn Larsen, Author
Wednesday, March 04, 2009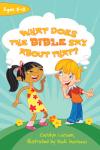 What Does the Bible Say About Ambition?
You've got drive—you've set goals and you'll do just about anything to reach them. Is that wrong? Nope. Doesn't God want you to be the best you can be? Sure he does. However, his wish is two-pronged: Be the best you that you can be, but don't forget to love him and others along the way.
What the Bible Says
Do nothing from rivalry or conceit, but in humility count others more significant than yourselves.
Philippians 2:3
But we urge you, brothers, to ... aspire to live quietly, and to mind your own affairs, and to work with your hands, as we instructed you, so that you may walk properly before outsiders and be dependent on no one.
1 Thessalonians 4:10-12
Let us not become conceited, provoking one another, envying one another.
Galatians 5:26
Time to Face the Facts
Watch it: There's a fine line between having a lot of ambition and being filled with pride. It's okay to want to be the best at something, but don't push other people down in the process of lifting yourself up. Remember, God does want your excellent service but not at the expense of loving others. The greatest commandment is to love God, the second greatest is to love others. Don't lose sight of that.
Today I Will…
Think about how I am treating other people. I know what my ambitions are, and I don't want to hurt anyone as I try to reach them.
6. ANGELS
What Does the Bible Say About Angels?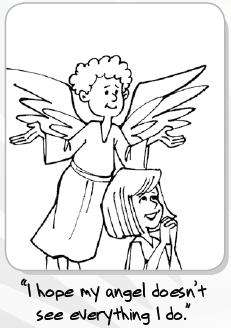 Are angels really those white beings with big fluffy wings that you see in pictures? Do they just kind of float around and sing all the time? Are they more important to God than people are? Here's the scoop: angels are God's messengers and workmen. They follow God's commands in taking care of you. How cool is that?
What the Bible Says
For he will command his angels concerning you to guard you in all your ways.
Psalm 91:11
And the angel said to her, "Do not be afraid, Mary, for you have found favor with God. And behold, you will conceive in your womb and bear a son, and you shall call his name Jesus.
Luke 1:30-31
And behold, an angel of the Lord stood next to him, and a light shone in the cell. He struck Peter on the side and woke him, saying, "Get up quickly." And the chains fell off his hands.
Acts 12:7
Time to Face the Facts
Wow! God loves you! He really loves you! He commands his angels to watch out for you; they are probably doing that even when you don't realize it. You see in Scripture how his angels bring messages to people and how they protect people. It only makes sense that God still uses angels to do those same jobs. Aren't you so glad God loves you that much?
Today I Will…
Thank God for the zillions of times he has sent his angels to protect me and watch out for me.
7. ANGER
What Does the Bible Say About Anger?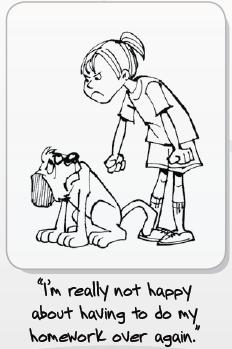 It's no big deal if you blow your top once in a while, right? Everyone gets angry sometimes. God doesn't have rules about that, too, does he? Yep. God knows you're going to get upset ometimes, but he wants you to keep your cool and not say or do things you will be sorry about later.
What the Bible Says
Refrain from anger, and forsake wrath! Fret not yourself; it tends only to evil.
Psalm 37:8
Whoever is slow to anger has great understanding, but he who has a hasty temper exalts folly.
Proverbs 14:29
Have something to say about this article? Leave your comment via Facebook below!
advertise with us
Example: "Gen 1:1" "John 3" "Moses" "trust"
Advanced Search
Listen to Your Favorite Pastors