What God Does When Men Lead
Bill Peel, Author
Thursday, May 22, 2008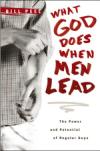 If you bought this book for yourself, I commend you for taking the initiative. If your wife, girlfriend, or mother gave you this book, or if a church leader decided this would be a good topic for your small group to study, you may be wondering why they selected it for you. No matter how the book came into your possession, by reading it you are taking an important step of self-leadership, which is where we all must begin to become the leaders God wants us to be.
I think you will discover that What God Does When Men Lead is different from the leadership books that occupy significant shelf space in bookstores today. For example, numerous books on leadership focus on one area, such as organizational or community leadership, but this book covers every area of a man's life. Many other books tell you how to be leaderlike—how to dress, run a meeting, and exude an aura of confidence. There are even books that coach you on how to shake hands, answer the phone, and order from a menu like a leader. You won't find those topics in this book—not that these things are necessarily bad. It's just that they don't have much to do with leadership—at least from God's point of view.
According to God, leadership is more about who you are and the choices you make. It's about believing that what He says about you is more important than what press clippings or your résumé says about you. It's about understanding that putting on the armor of God is infinitely more empowering than putting on an expensive suit and power tie. It's about what drives you—not what you drive.
It is our substance, not style, that qualifies us for leadership. And our substance—the stuff at the core of our being—is formed from the choices we make day by day, hour by hour, at the private, intimate levels of life. Who we are up close and personal is the proving ground of true leadership.
At the end of each chapter you will find a section called "Living as a Faithful Steward" with questions for personal reflection and small group discussion. I encourage you to ponder and personalize the principles that hit home with you in each chapter. Take time to write down your thoughts and make them your own. Discussing them in a group will help you even more.
Note to Female Readers
If you are a woman, I realize that this book may cause angst. Understandably, it is painful to recall hard-fought battles that opened new vistas for you. It hurts to remember the abuse many of you have endured under domineering males. And it's frustrating to consider the lost contributions of women kept "under control" by culturally imposed roles and expectations. Even now, if you are shouldering responsibilities that should be shared with men, you may be thinking, I'm sick and tired of doing all the work while they sit around.
Please understand that when I talk about male leadership, I don't mean it in a "men lead, women don't" sense or a zero-sum-game dominance contest. In no way do I question that women are leaders, nor do I want to deprive them of any leadership role God intends for them. To do so would be patently unbiblical and would discount the tremendous contributions of many female leaders, not to mention raise the ire of my thirty-six-year partner in marriage, who has unquestionable leadership abilities. But even more important, to stop women from exercising any God-given gift would anger the One who distributed that gift in the first place.
This book is meant to guide and encourage men to become the leaders God intends us to be, living in such a way that women (and other men, for that matter) want to follow us. I'll be first in line to confess that we men have not been careful to honor the gifts and dignity of the people we lead—especially the women in our lives.
Have something to say about this article? Leave your comment via Facebook below!
advertise with us
Example: "Gen 1:1" "John 3" "Moses" "trust"
Advanced Search
Listen to Your Favorite Pastors