When Teachers Pray
Vicki Caruana, Author
Tuesday, July 20, 2004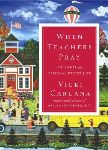 Pray the Issues:  Discouragement
Therefore strengthen your tired hands and weakened knees, and make straight paths for your fee, so that what is lame may not be dislocated, but healed instead.
HEBREWS 12:12-13
I began to hear the horror stories of burnout even before my first teaching job.  As soon as people found out I was going into special education, the "advice" started pouring in.  Staying motivated is not an easy task when you are worried about your students' progress day and night.  We're encouraged to look for small victories, but a special education teacher sometimes has to settle for minuscule victories. 
I had many students whose interpersonal skills were lacking.  They didn't know how to get along with others.  They either were painfully shy or their behavior was painfully inappropriate.  China was an eighth-grade, severely learning disabled girl who basically avoided contact with everyone, including me.  I didn't know how to reach her.  She was functioning on a third-grade level in reading.  I knew that if someone didn't break through her hardened shell, she wouldn't make it through high school.  But everything I did just drove her further inside herself.
At some point I stopped trying so hard.  After all, she wasn't the only student who needed me.  I didn't ignore her, but I no longer went out of my way to engage her.  One day toward the end of the school year, there was a gift on my desk.  China was absent that day.  It was a beautifully crafted beaded change purse.  The note attached said, "Thank you for being my teacher."  I smiled to myself thinking, Like I had a choice.  At the end of the day I was told China and her family have moved.  My chances to reach her had run out.  It really upset me, and I chastised myself for not trying harder.
Looking at the purse, I realized something.  This was it – the small victory.  China made that purse herself.  I still have it to this day.  It is a reminder of a seed planted that I pray someone else came along to water after me. 
Sometimes just the simplest of steps are enough to encourage us to continue.  Sometimes we need to see the "big picture" of God – who he is, where he is, and what his intent is.  We all get discouraged, but if discouragement goes unchecked, it can turn into despondency.  The circumstances of life can steal our joy.  Whether they are physical, emotional, or intellectual, these circumstances can be overcome by the love of God.  God has made certain promises for yourself in prayer.
WHO IS GOD?
When we are down and discouraged, we turn to ourselves or other people to encourage us.  But since the heart is deceitful above all else (Jer. 17:9), we cannot trust our own ability to lift ourselves up.  God is the only one who can lift us up.  Sometimes we don't turn to God because deep down we don't trust him.  We trust in our own abilities more.  But God is worthy of our trust.  Our dependence need only to lie in him.  Encourage means "to inspire with courage, confidence, or hope."  Who better to encourage then God?
FAITHFUL
If we are faithless, He remains faithful,
for He cannot deny Himself.
2 TIMOTHY 2:13
God is faithful, regardless of our previous experiences with man (Roman. 3:3-4).
ABLE
And God is able to make every grace overflow to you,
so that in every way, always having everything you need,
you may excel in every good work.  As it is written: 
He has scattered;
He has given to the poor;
His righteousness endures forever. 
2 CORINTHIANS 9:8-9
Have something to say about this article? Leave your comment via Facebook below!
advertise with us
Example: "Gen 1:1" "John 3" "Moses" "trust"
Advanced Search
Listen to Your Favorite Pastors