When Teachers Pray
Vicki Caruana, Author
Tuesday, July 20, 2004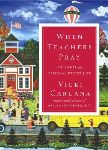 It is God who equips us to do what we have been called to do.  It is God "who is able to do above and beyond all that we ask or think" (Eph. 3:20).
HOLY
Lord, who will not fear and glorify Your name? 
Because You alone are holy,
because all the nations will come and worship before You,
because Your righteous acts have been revealed.
REVELATION 15:4
By his very nature, God is holy.  Everything he does is righteous.  Everything he does is worthy of praise and worship.  And since none of us is righteous – no, not one – we are better off putting our trust in the only one who is.
JUST
The Rock – His work is perfect;
all His ways are entirely just. 
A faithful God, without prejudice,
He is righteous and true.
DEUTERONOMY 32:4
God is a just judge, showing no partiality (1 Pet. 1:17).  Everyone who does wrong receives what he should for that wrong.  It doesn't matter who we are or what position we hold. It doesn't matter if we are tenured or teacher-of-the-year.  Can we say the same?  No.  Even in the midst of my discouragement, I know that God sees all and gives everyone according to his ways (Jer. 32:19).
Our God is trustworthy.  His character demonstrates it.  His actions illustrate it.  His mercy confirms it.  Because he is who he is, I have hope.  I am encouraged!
THE INDWELLING
In the midst of a storm we tend to look for God outside of it, asking him to come in and save us.  But he is not outside the storms of our lives.  He is there right in the middle of them.  Even if we are not aware of his presence, he is indeed there.  How do we know he is there?  His word says so in many places.  "And what agreement does God's sanctuary have with idols?  For we are the sanctuary of the living God, as God said:  'I will dwell among them and walk among them, and I will be their God, and they will be My people'" (2 Cor. 6:16).  Now we have not received the spirit of the world, but the Spirit who is from God, in order to know what has been freely give to us by God (1 Cor. 2:12).  We never walk alone – especially during the most discouraging of times.
GOD IS FOR US
What then are we to say about these things?
If God is for us, who is against us?
ROMANS 8:31
God sent us a helper, a comforter for times of trial and trouble.  The Spirit helps us in our weakness and intercedes for us when we pray.  Sometimes we are so confused or discouraged that the words to pray don't come.  That's when the Spirit, who lives inside of us and knows our every aching, our every desire, prays for us.  What an incredible advocate!  Jesus himself stands before the Father on our behalf.  He took our place, one who knew no sin became sin for our sakes – for my sake.  God poured out his wrath on Jesus, his only Son, on the cross that day – for you, for me.  He is our champion, our confidante, our defender, our deliverer – our Savior!  So when it feels as if no one is on your side or that no one cares about what you care about, remember that the God of the universe is for you – you personally.
GOD IS WITH US
"Haven't I commanded you:  be strong and courageous?  Do not be afraid or discouraged, for the LORD your God is with you wherever you go."
JOSHUA 1:9
Teachers feel incredibly isolated in their jobs.  Even though we are with students all day, we have very little opportunity to build relationships with fellow teachers.  So when we are troubled and discouraged, we don't know how to reach out for help.  Sometimes we even fear reaching out, thinking it makes us look weak; and in this day and age of accountability, no one wants to appear weak. 
Have something to say about this article? Leave your comment via Facebook below!
advertise with us
Example: "Gen 1:1" "John 3" "Moses" "trust"
Advanced Search
Listen to Your Favorite Pastors