When Teachers Pray
Vicki Caruana, Author
Tuesday, July 20, 2004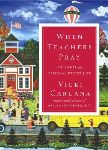 Our God commands us to be strong and courageous.  It's not a suggestion or a piece of practical advice – it's a command!  God commands us things he himself has already equipped us to do.  Because he is for us, there is no one worth worrying about who is against us.  Even if we are faced with a trial that seems insurmountable, God is with us.  He may choose to calm the storm, or he may choose to calm his child.  Either way he is there with us.  So we have no reason to fear what man might do.  God is here, and he's in control!
GOD IS IN US
This is how we know that we remain in Him and He in us:
He has given to us from His Spirit.
1 JOHN 4:13
In the Old Testament, God dwelled among his people in different ways.  He accompanied them as a pillar of fire and cloud through the wilderness.  He spoke to them through Moses from Mount Sinai.  One of the most beautiful expression of God's love for us is seen in the New Testament.  First, he humbled himself and was born as a man to walk among his people.  That was a personal, face-to-face relationship.  But then he took this very personal relationship one step further.  He left his Spirit to reside and abide in the human heart.  How much more intimate can a relationship be?  He loves us so much that first, he died for us, and second, he placed his Spirit inside those who believe in him so that we could experience his love from the inside out.
HIS PLANS FOR US
Our God is more patient than any of us deserve.  Over and over again he is rejected, ridiculed, and refused.  Over and over again he forgives, blesses, and accepts us just the way we are.  And although we are to fear him – his awesome power demands it – he does not intend us harm but good.  Can we see clearly his plans for us?
"For I know the plans I have for you" – [this is]
the LORD's declaration – "plans for [your] welfare,
not for disaster, to give you a future and a hope."
Jeremiah 29:11
God spoke of Israel in this verse, but even now his plans for us, the church, are meant for good – his glory.  We may find ourselves confused, but God is not the author of confusion, so we can trust in his certainty about what he has in store for us.  Sometimes we brace ourselves in fear that God's designs are all against us.  But even things that seem to be harmful are for good.
We know that all things work together for the good of those who
love God:  those who are called according to His purpose.
ROMANS 8:28
God's purpose is to bring glory to himself.  We are created for such a purpose.  God will not give us what we fear or what we selfishly desire.  Knowing this, we are better able to seek him in prayer.  When our students don't achieve as we hope or our colleagues treat us with disdain, we can pray that God will be glorified through the situation, that our actions will be representative of a loving God who desires to bless his people. 
GAINING ENCOURAGEMENT
Finally brothers, whatever is true, whatever is honorable, whatever is just, whatever is pure, whatever is lovely, whatever is commendable – if there is any moral excellence and if there is any praise – dwell on these things.
PHILIPPIANS 4:8
Schools have reputations.  If there is a high turnover at a school, that is a red flag and an indicator to many that you wouldn't want to work there.  But sometimes you don't have a choice.  My first teaching job was a two-hour commute, and I desperately wanted to work closer to home.  After two years I finally got my chance.  I was so excited about my new prospect and shared my enthusiasm with colleagues where I was teaching at the time.  Surprisingly, no one shared in my enthusiasm.
Have something to say about this article? Leave your comment via Facebook below!
advertise with us
Example: "Gen 1:1" "John 3" "Moses" "trust"
Advanced Search
Listen to Your Favorite Pastors