When Teachers Pray
Vicki Caruana, Author
Tuesday, July 20, 2004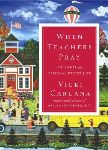 Blessed be the God and Father of our Lord Jesus Christ, the Father of mercies and the God of all comfort.  He comforts us in all our affliction, so that we may be able to comfort those who are in any kind of affliction, through the comfort we ourselves receive from God.
2 CORINTHIANS 1:3-4
I was less than thrilled with my first teaching assignment.  It was in a sixth-grade center in an inner-city ghetto.  It was frightening to say the least, especially when my own principal told me never to come in early or stay late and never to drive a car there that I cared about.  It was two years with absent parents, uncooperative students, no budget to speak of, and chronic classroom vandalism.  College did not prepare me for teaching in this environment.  But it was that same environment that taught me to be creative in my teaching, my discipline, my communication efforts with parents, and my materials.  Because of that experience I've been able to help many others faced with similar situations, and it has been so satisfying to be able to do so.
God comforted me through many trials during my years in the classroom.  It was only because I was comforted that I am now able to comfort others.  Only teachers really understand what other teachers are going through.  Unfortunately, we often keep to ourselves and only communicate our discouragement in the form of a gripe session in the teachers' lounge.  Have you been comforted by the Great Comforter?  If so, reach out to that brand new teacher and soothe her spirit.  Be a listening ear and a praying heart for the veteran who just can't take it anymore.  Pray that God will reveal to you who needs to be comforted today.  He will show you; just be willing to go where he points.
We have the hope of an eternity with God.  Allow that hope to proclaim itself to all those around you.  Then when things go wrong and you are at peace, others will want to know how.  They will ask you about the hope that is within you.  Be ready with your response!
PRAYER POINTS
2 Timothy 2:1:  "You, therefore, my child, be strong in the grace that is in Christ Jesus." 

Hebrews 12: 12-13:  "Therefore strengthen your tired hands and weakened knees, and make straight paths for your feet, so that what is lame may not be dislocated, but healed instead."
PRAYER PROMPT
Often we are discouraged because we try to change things in our own strength.  We are unable to do it.  Only God can do it through us.
PRAY
Lord, it is so difficult to hide my feelings, especially when they border on despair.  I want to protect my students from my emotions.  I don't want my feelings to get in the way of my teaching and their learning.  But when I cover them, I still don't feel at my personal best with the students.  Even in this situation, I want the peace you have promised – the peace that passes all understanding.  Lord, release that peace to me now.  Yet if I still experience turmoil, cover any mistakes I might make with your love.  Let your love trickle down as my love for my students.  I will reveal my struggle, and then if I handle it the way you would have me handle it, others will ask about the peace that is within me.  Thank you for this time of suffering.  Let it work in me patience, perseverance, and finally peace.  Amen.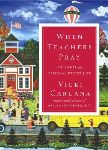 Excerpted from "When Teachers Pray: The Power of a Personal Prayer Life" by Vicki Caruana. Copyright 2004. Broadman & Holman Publishers. Used with permission.

Vicki Caruana educates and encourages kids and those who live and work with them to strive for excellence.  Trademarked as America's Teacher™, Vicki desires to educate America about education.  She is the best-selling author of "Apples and Chalkdust" (over 500,000 copies sold).  Vicki founded Teachers in Prayer for School (TIPS), which helps sponsor teacher mini retreats educators to gain rest and renewal.
Have something to say about this article? Leave your comment via Facebook below!
advertise with us
Example: "Gen 1:1" "John 3" "Moses" "trust"
Advanced Search
Listen to Your Favorite Pastors