When Your Family's Lost a Loved One
David and Nancy Guthrie, Authors
Thursday, May 08, 2008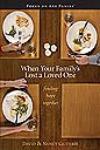 The answer to the question, "How are we doing as a family?" has less to do with how much hurt you're feeling and more to do with how well you're caring for each other.
Asking yourselves questions like these can help:

• How are we doing in listening to and validating each other's fears and concerns?
• How well are we doing in comforting?
• How well are we doing in lovingly confronting unhealthy coping and harmful thinking?
• How well are we doing in not insisting everyone else grieve in the same way and on the same timetable?
So . . .
How are you doing as a family?
You're hurting.
You're adjusting.
You're trying to find a new normal.
You're going through one of the hardest things a family ever has to go through.
So don't be in a hurry. Don't expect so much from yourself and each other. Give each other a lot of grace. Do everything you can to make your family a safe place to address your grief rather than avoid it.
And rest in the confidence that God is doing His part in bringing your family to a place of healing and wholeness. "He who began a good work in you will carry it on to completion" (Philippians 1:6).

****
God Fills in the Gaps
Q&A with Angela Robbins
After Angela's husband, Wes, died of a heart attack while playing softball with his family in the front yard on Father's Day, his absence left a huge hole—a gap she thought could never be filled.

In those early days after Wes died, what were your greatest fears and challenges?
I wondered, Am I up to the task of raising my kids on my own? How will my kids make it without a dad? How can I go on? How will I live after this terrible thing? Will we ever experience joy again? It all looked impossible.
I remember when we were about three months into being without Wes, we got in the car after church to go eat lunch. The kids were arguing and I was in complete despair. We were in such chaos. I pulled over on the side of the road and got out and slammed the door and stood in front of the car and said to God, "What were You thinking? Do you see our life? How is any good going to come of this? I don't get it."
After a while I got back in the car and told the kids, "I'm really struggling without Dad. Sometimes I'm going to get angry with God because I still don't understand and I don't know if I ever will. But I know two things—He's big enough for my anger and I know He is going to take care of us. I know that no matter how bad it gets, we're going to be okay."
What was that first year like for you?
The first year was all about just getting through all the firsts—the first kids' birthdays without their dad, the first Christmas, the first anniversary without Wes. We didn't do any of it very well. We stayed out of town in a hotel that first Christmas because being at the house without Wes was too painful. We did birthdays different. We tried to celebrate—but there was always the gut feeling . . . It is never going to be the same. It will never be as much as it could have been if Wes was still here. He was the one who brought the fun element to everything.
All family events were hard. Going to church was hard. Sporting events for my kids were so difficult. Any time you go out in public you feel like you have a neon sign over your head that says, THE FAMILY WITHOUT A DAD, THE BROKEN FAMILY. You feel like the spotlight is on you and that you look pitiful.

But as hard as the first year was, the second year was probably my hardest year. At that point, the reality set in: This is how it's going to be from now on.
Have something to say about this article? Leave your comment via Facebook below!
advertise with us
Example: "Gen 1:1" "John 3" "Moses" "trust"
Advanced Search
Listen to Your Favorite Pastors