When Your Family's Lost a Loved One
David and Nancy Guthrie, Authors
Thursday, May 08, 2008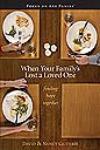 At that point, the Lord was just beginning to show us that He could fill our hearts. Worship was becoming a whole new avenue to express that for us. We were standing there singing and we wanted to shout. We couldn't sing the words loud enough or with enough passion. And my 12-year-old daughter said, "Look around. Nobody is feeling it like us. We're so lucky that it means this much."
What a blessing to realize you have a connection with Jesus you've never had before—because you've been able to share in His sufferings.
How do you deal with your kids' need for a dad and your own loneliness?
It is hard because you get a lot of pressure from your friends to pursue a new relationship with a man. To them, that is the fix to all your struggles.

But I've seen so many widows rush into another relationship and give up the opportunity to nurture an intimate relationship with Jesus. I tell new widows, "Do your best to pursue Jesus. Give yourself time to allow Him to fill every place. If you become a workaholic or shopaholic or go from relationship to relationship, you are filling your life with everything but Him."
I also know that if there is going to be another person in my life, it isn't for just me but for four people—and that's a tall order to fill. I do believe that the Lord will raise up someone for me, but in His time, and I have to trust that. There have been many times in the last eight years—especially as my kids are teenagers—that I think, Lord, when will you send them a dad? It's really more about them than me because I see how hard it is for them to go through those years without a significant male.
These are the times I go back to God and say, "I'm asking You once again to fill the gaps. I trust You with my life and with my kids' lives. I need to know You are actively involved in filling the gaps for my children."
What can you say today you thought you'd never be able to say?
I can say that I really never dreamed that the Lord wanted to bless us so much. I never dreamed He could create in us the capacity to have this much joy.
And I can say that if the Lord does not bring about another partner for me this side of heaven, I believe I still will have the most full life. I don't believe that at the end of my life I'll say I missed out.
I believe I've learned how to be content in whatever my situation because I've seen that He really can be enough. And not just enough, but way more than enough.


Excerpted from When Your Family's Lost a Loved One by David and Nancy Guthrie, a Focus on the Family book published by Tyndale House Publishers. Copyright © 2008, David and Nancy Guthrie. All rights reserved. International copyright secured. Used by permission.
Have something to say about this article? Leave your comment via Facebook below!
advertise with us
Example: "Gen 1:1" "John 3" "Moses" "trust"
Advanced Search
Listen to Your Favorite Pastors