Where Women Walked
Jean Blackmer & Laura Greiner, Authors
Tuesday, June 08, 2004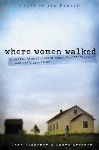 LeAnn

Instead of ignoring a nudging in her heart, LeAnn responded with action.  Her first small act of compassion led to an adventure that drastically changed her life and the lives of hundreds of children.
Summer, 1971
"Look, girls!  A bake sale.  Let's stop in and buy some cupcakes," LeAnn said as she turned her car into the church parking lot.
"Yay!" both girls shouted in unison as she unbuckled them, freeing them from their car seats.  They had spent the last couple of hours driving around their small Iowa town running errands with their mom.  They definitely deserved a treat.
"Okay, hop out.  We won't be long."
"Mommy, what's that sign say?" asked LeAnn's three-year-old as she pointed at a large banner hanging above the church entry.
"It says, 'Help raise money for the orphans in Vietnam,'" answered LeAnn.  She felt a gentle tug on her heart prompting her to help the orphans, even if it was only to give a little money.
Inside, behind a long table laden with baked goods, sat two cheerful women wearing brightly colored, flower-print dresses.  Behind them hung heart-wrenching photographs of emaciated Vietnamese orphans.  The children's dark brown eyes, showing underneath their unkempt black hair, cried out to LeAnn for help.  Their swollen bellies and mal-formed features caused an ache in the pit of her stomach. 
LeAnn found some cupcakes, paid for them, and started to leave the building.
"Thanks for stopping," one of the women said to LeAnn.  "Every little bit is important to these kids."
"Glad to help," LeAnn answered.  She wanted to leave, but the images of the children kept her there.
"You know these children don't have a prayer if we don't get them out of Vietnam," the woman continued. 

"There is a time for every purpose under heaven. Sometimes our calling and our making a differenceare to be done in the home.  Then there will be times when we are called to expand that, even in a small way.  As Audrey Hepburn once said, 'Take care of the small circle around you.  When you have succeeded with them, then step out one small step at a time.'" – LeAnn, 54

"What do you mean?" LeAnn asked.
"Well, most of them were conceived by American servicemen.  They're called "Amerasians."  In their country they are outcasts.  No one wants them.  So we're working to find them good families here in America.  But time is running out because the Vietcong are approaching Saigon, where our orphanage is.  If these children end up in the hands of the Vietcong, they will be tortured and possibly killed."
LeAnn looked again at the photographs.  Horror of what might happen to these innocent children moved her to want to do more.
"It's getting even harder to place these children in America because most people are so tired of hearing about the Vietnam War," the woman added.
LeAnn couldn't live with her newfound knowledge and do nothing.  "I'd like to get involved," she blurted.  "Is there a number I can call to find out how I can help?"
When she walked out of that church carrying her goodies and the brochure about Friends of Children of Vietnam (FCVN), she left with much more than a dozen cupcakes – in her heart she carried the seeds of a calling from God.
LeAnn immediately began volunteering for FCVN.  For the next several years, she poured her heart and energy into helping to raise money, collect supplies, and arrange adoptions for the orphans.  As her volunteer responsibilities grew, so did her passion.  She longed to bring one of these babies into her own life and home.  After much prayer and discussion with her husband, Mark, they decided to adopt a son from Vietnam.  But it was possible that Vietnam would fall before they completed the yearlong process of adoption.  If Vietnam fell, no more babies would be allowed to leave.
Have something to say about this article? Leave your comment via Facebook below!
advertise with us
Example: "Gen 1:1" "John 3" "Moses" "trust"
Advanced Search
Listen to Your Favorite Pastors