Where Women Walked
Jean Blackmer & Laura Greiner, Authors
Tuesday, June 08, 2004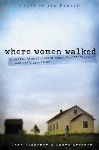 Relief swept through LeAnn; she was anxious to return home.
As soon she got to the orphanage, LeAnn wholeheartedly entered the desperate race to save as many of these children as possible.  Operation Baby Lift was well underway.  Energized by the excitement of their mission, she worked frantically all day packing the multitude of items needed to transport at least 200 babies to the United States.  Carol and LeAnn spent most of the day in the two-story warehouse behind the center where the supplies were kept.  They looked around at the rows of well-organized shelves and labeled boxes of supplies sent to the orphanage from the United States.
Pulling a dusty box from a rack.  Carol laughed, "How do we begin to find 600 sleepers and 1,000 Pampers?"
LeAnn pulled another box from its place, staring at it, "Carol, can you believe this?  This is my handwriting.  We packed this box!"
LeAnn and Carol sorted through the familiar shirts, pants, and playsuits, delighted that these clothes would return to the U.S. – this time on an infant. 
That afternoon, the Vietnamese government decided to change the schedule in retaliation against the FCVN for the plane that took off without permission.  Instead, another organization would be the first allowed to leave the next day.  LeAnn's heart sank at the bad news.  Yet all she could do was accept the decision and continue to prepare the children.
With the change in planes, they now prepared for a transport of 100 babies to be placed onto a plane headed for Australia.  Exhausted after a day of feeding, changing, cleaning, and packing for babies, LeAnn fell into bed.
The next morning LeAnn helped finalize the preparation of the babies to be transported on the plane to Australia.  She sat in a VW van, with the  middle seat removed, surrounded by 21 crying infants lying on the floor and the backseat.  It was so hot, and because the babies were losing a lot of liquid from their tears and sweat, the volunteers worried about dehydration.
En route to the airport, they encountered a horrific traffic jam.  LeAnn looked out the van window and gasped.  A huge, black cloud filled the sky.  She later learned from an Australian reporter that the first airplane out that morning had crashed, killing relief workers and hundreds of babies that were headed to America.
LeAnn shoved aside persistent thoughts about the implications of this tragic event.  She didn't have time to think about it.  Surrounding her feet, on her lap, and on both sides of her were crying, needy children.  She focused on providing for them.  When they got to the airport, she ignored the black cloud and helped place them on the plane.  She and the other volunteers cheered as they watched the Australia-bound plane soar out of their sight toward a safe haven for the orphans.
When LeAnn returned to the center, she collapsed onto a rattan couch and sobbed uncontrollably to Cherie.  "It was horrible!  I can't explain the dread that overwhelmed me as I looked at that black cloud, knowing so many died in that airplane crash!  I kept thinking that could happen to us."  Fear-based questions filled her mind.  Will I ever see my husband and daughters again?  Did God really want me to come here?  Did I really hear His voice?
"We can't think about that right now," Cherie said.  "We've got lots more babies in the next room who need us right now.  We need to take care of them and prepare them for evacuation."
That night at dinner, Cherie smiled at LeAnn as they ate their simple meal.  She put down her fork and announced, "LeAnn, one of those babies in the next room is yours.  You can be assigned one, or you can go in there and choose your son."
Stunned, LeAnn stammered, "Are you sure?"
Cherie's grin grew wider.  "Yep."
Have something to say about this article? Leave your comment via Facebook below!
advertise with us
Example: "Gen 1:1" "John 3" "Moses" "trust"
Advanced Search
Listen to Your Favorite Pastors