Where Women Walked
Jean Blackmer & Laura Greiner, Authors
Tuesday, June 08, 2004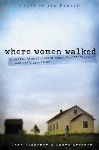 "I can't leave Mitchell here to be tortured or killed.  I won't leave without him," she resolved.
LeAnn jumped on the bus and, through an interpreter, asked the driver to take her back to the center.  Her plan was to race back to the center, grab Mitchell, and race back to the airport before the plane took off.
The bus driver sped recklessly back to the center.  The crowded streets, the hundreds of weaving bicycles, the endless stream of cars, all angered LeAnn as the bus honked and jerked through the snarling traffic.
"Come on, can't you go any faster?" she hollered at the driver who didn't speak a word of English.
He stopped the bus about a mile from the center.  He opened the door, smiled at LeAnn, and pointed down a narrow street ahead.  She jumped off the bus and sprinted as fast as her legs would carry her.  The strap of her sandal broke and her shoe smacked against her ankle.  She reached down without stopping, grabbed her sandal, yanked it off, and ran with one bare foot.  When she made it to the center she was practically hyperventilating.  "Where's Mitchell?" she gasped.  "I need Mitchell, NOW!"
"LeAnn, calm down," Cherie said, meeting her at the door.  "I just spoke with an airport official.  He called to say the plane would wait for you."  She smiled.  'And he told me the second flight has been re-approved."
"Thank you, God," was all LeAnn could manage to say. 
From that moment on, LeAnn didn't let Mitchell out of her sight.  He and the other babies were place in cardboard boxes, two to three babies per box, and loaded onto cargo planes.  The planes landed safely 24 hours later on American soil, filled with 300 babies, one being LeAnn's newest family member.

"The calling I felt was a nudging that wouldn't go away.  It was a deep inner voice that kept pestering me." – LeAnn

Never in her wildest dreams did LeAnn imagine that she would take part in a hug effort to evacuate children.  She simply followed God's tug on her heart to buy a few cup-cakes – and then followed His leading, step by step, through her heart's desire, to make a difference in the lives of unwanted children.  Through her obedience, God incrementally increase her responsibilities and put her in a position to be used to help others.  "When I went to Vietnam, I had no idea what was going to happen.  I just followed this nudging in my heart and then received blessing beyond my imagination."
In Their Footsteps
"I've let God guide me to places of service and I've found joy comes from serving.  Always think about others and try to encourage them."
—Pat, 72
"Take time on a regular basis to nourish your heart and soul.  This needs to involve some time of quiet listening so you can hear that still, small voice.  Nothing is more important than listening and responding to God."
—Donna, 55
"Never take life for granted.  Live each day to the fullest.  God put each of us here for a purpose, and we need to live that purpose out to the fullest."
—Jane, 59
"My advice to women is to do things for others; don't just do things for yourself.  The more you do, the more you're going to get back."
—Elizabeth, 95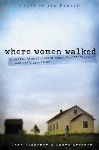 From "Where Women Walked," a Focus on the Family book published by Tyndale House. Copyright © 2004, Focus on the Family. All rights reserved. International copyright secured. Used by permission.
Jean Blackmer received her bachelor's and master's degrees in journalism from the University of Colorado at Boulder.  A free-lance writer for the past twelve years, her works have appeared in Today's Christian Woman, Christian Parenting Today, Brio, Guideposts, The Boulder Magazine, The CU Alumni, and the Boulder Daily Camera.  Jean is married to Zane and together they are the parents of three school-age boys and live in Boulder, Colorado.
Laura Greiner, also from Colorado, is a wife and the mother of three.  She received her bachelor's and master's degrees in journalism from the University of Colorado at Boulder and has a Ph.D. in sociology from the University of Denver.  She worked at the Center for the Study and the Prevention of Violence at the University of Colorado for more than seven years as the assistant director.  She has also had several journal articles published.
Have something to say about this article? Leave your comment via Facebook below!
advertise with us
Example: "Gen 1:1" "John 3" "Moses" "trust"
Advanced Search
Listen to Your Favorite Pastors