Why Do Bad Things Happen If God Is Good?
Ron Rhodes, Author
Tuesday, June 08, 2004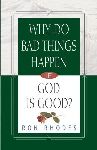 Have you read the book of Deuteronomy lately? If you have, I am sure you will recall that after God forbade Moses to cross the Jordan into the Promised Land as a result of disobedience at Meribah (Numbers 20:12), Moses pleaded with God to change His mind. But God responded, "That is enough. … Do not speak to me anymore about this matter … You are not going to cross this Jordan" (Deuteronomy 3:26-27). Moses, one of the greatest spiritual giants in the history of the human race, was handed a big no from God.
Most Christians receive a no from God more often than they care to admit. In this way, God is like human parents who must often say no to their children for their own good. God always has His children's highest good in mind when He says no. Moreover, He always gives them the grace to accept it. Christian pastor Blaine Allen is right when he says that never will the Lord say no to a petition without instantly supplying the grace to accept the answer. … He will not stockpile it in us in advance, but he will not allow it to be depleted either. Whatever burden he places on us, he will moment by moment carry for us as well.1
The apostle Paul also received a big no from God, and he learned all about the grace of which Allen speaks. Consider these words from 2 Corinthians 12:2-9:
I know a man in Christ who fourteen years ago was caught up to the third heaven. Whether it was in the body or out of the body I do not know – God knows. And I know that this man – whether in the body or apart from the body I do not know, but God knows – was caught up to paradise. He heard inexpressible things, things that man is not permitted to tell. I will boast about a man like that, but I will not boast about myself, except about my weaknesses. Even if I should choose to boast, I would not be a fool, because I would be speaking the truth. But I refrain, so no one will think more of me than is warranted by what I do or say. To keep me from becoming conceited because of these surpassingly great revelations, there was given me a thorn in my flesh, a messenger of Satan, to torment me. Three times I pleaded with the Lord to take it away from me. But he said to me, "My grace is sufficient for you, for my power is made perfect in weakness." Therefore I will boast all the more gladly about my weaknesses, so that Christ's power may rest on me.
Apparently, the apostle Paul saw "the third heaven," the resplendently beautiful dwelling place of Christ and the saints. This glorious, awe-inspiring experience would likely have tempted him to boast about it pridefully, especially when some in the city of Corinth challenged his apostleship. So God gave him a "thorn" to keep him humble. God had a purpose for allowing him to suffer.
Our text specifies that this thorn was "in the flesh" (2 Corinthians 12:7). The word flesh is the normal word in the Greek language used to denote the physical substance of which the body is composed. Whatever Paul suffered from, it was apparently physical in nature. And it hurt.
The word for "thorn" carries the idea of "a sharpened wooden shaft," "a stake," or "a splinter." This gives us at least some indication of the pain Paul was forced to endure – a pain that God would not take away. Bible expositor J. Dwight Pentecost observes this:
When Paul talked about the thorn in the flesh, it wasn't a little prick such as one gets from a rosebush. He wouldn't have talked about being buffeted had it been something insignificant. This was a very serious and grievous suffering. It extended over a period of time because he said he prayed to the Lord three times that this thorn might be taken away; but God chose to deny his request.2
Have something to say about this article? Leave your comment via Facebook below!
advertise with us
Example: "Gen 1:1" "John 3" "Moses" "trust"
Advanced Search
Listen to Your Favorite Pastors