Why Do Bad Things Happen If God Is Good?
Ron Rhodes, Author
Tuesday, June 08, 2004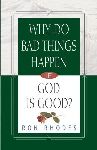 Many scholars believe Paul may have suffered from a severe eye disease that lasted a considerable time. We all know how uncomfortable a little dust in the eye can be, but perhaps the idea of a thorn in the eye better captures the kind of pain Paul suffered. Such an eye affliction may be the reason why Paul did not travel alone throughout Asia Minor (see Acts 15:40; 16:1-3). He apparently needed a guide.
Whether or not this was the case, our text tells us that a messenger of Satan was behind this thorn that tormented Paul (2 Corinthians 12:7). The Greek word for "torment" literally means "to strike," "to beat," "to harrass," or "to trouble." This is the same word used for the soldiers violently striking and beating Jesus during His trial (Matthew 26:67). Paul's physical ailment was beating him down. Despite this, God's response to Paul's request for the thorn's removal was no. God's refusal was not in any way related to a sin on Paul's part nor to any lack of faith. In fact, the affliction was not for punishment but for protection – that is, protection from a self-inflated attitude. Because of this, Paul accepted God's verdict on the matter without hesitation.
We might speculate that prior to Paul becoming a Christian, he probably boasted about being a Hebrew of Hebrews, and he likely gloried in keeping the law. But now, as an apostle of Christ, we find him boasting in his weakness, for when he is weak, Christ showers His power on Him all the more abundantly. Experiences he formerly would have abhorred (like his present physical affliction), he could now welcome supernaturally because the evidence of Christ's power in the midst of them brought glory to God, not Paul.
Paul thus said, "That is why, for Christ's sake, I delight in weaknesses, in insults, in hardships, in persecutions, in difficulties. For when I am weak, then I am strong" (2 Corinthians 12:10). The word delight in this verse means "to approve or "to be well pleased with." It refers to an active delighting in God's ways, regardless of the outward circumstances in life. You see, through his suffering, Paul learned all about God's full sufficiency in all things. Just as God intended, the "thorn" produced in Paul a dependence that revealed Christ's power.
Might I suggest that, even though we are all spiritual toddlers next to the apostle Paul, God may do the same with us on occasion? God may allow you and me to encounter certain painful circumstances with the sole goal of causing us to become dependent on His strength. God may allow us to suffer so that we might be humbled and so that His strength might be made manifest through our weakness.
This has certainly been true in my own life. In fact, the more I grow and mature as a Christian, the more acutely aware I am of my weaknesses and my need to depend on God and His strength. The truth of the matter is that the Christian life is a dependent life – and God often engineers our circumstances to teach us this pivotal truth.
Saved in Suffering, Not from It
Related to the many times I have received a no from God through the years is an important lesson I have learned: God often does not save us from painful circumstances, but He sustains us in our painful circumstances. Christian pastor Paul Powell once said that "though God does not exempt us from suffering and He does not explain to us why our suffering comes, He does enter into our experiences with us and helps us through them. God doesn't save us from trouble; he saves us in trouble."3 I think Powell is right.
Consider the case of Shadrach, Meshach, and Abednego in Daniel 3. These three companions of Daniel refused to worship the image of gold set up by King Nebuchadnezzar, so the king threatened to throw them into a blazing fire (Daniel 3:15). The three brave lads responded by informing the king that God was perfectly able to rescue them (verse 17). This made the king so mad that he heated the furnace seven times hotter than usual and commanded his strongest soldiers to toss Daniel's three friends into the flames (verses 19-20).
Have something to say about this article? Leave your comment via Facebook below!
advertise with us
Example: "Gen 1:1" "John 3" "Moses" "trust"
Advanced Search
Listen to Your Favorite Pastors