Why Do Bad Things Happen If God Is Good?
Ron Rhodes, Author
Tuesday, June 08, 2004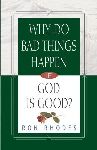 As the King was observing what should have been an instant incineration, he was suddenly startled by what he saw and exclaimed: "Look! I see four men walking around in the fire, unbound and unharmed, and the fourth looks like a son of the gods" (Daniel 3:25). The king then commanded the three to come out of the flames, and after seeing that they were completely unharmed, exclaimed: "Praise be to the God of Shadrach, Meshach and Abednego, who has sent his angel and rescued his servants! They trusted in him and defied the king's command and were willing to give up their lives rather than serve or worship any god except their own God" (verse 28).
Of course, if God had wanted to, He certainly could have intervened early on and prevented the three youths from being thrown into the furnace. But He chose not to do this. He allowed the three to be mistreated! But He did not allow them to go through this ordeal alone. Indeed, God sent his angel – perhaps the Angel of the Lord, which many theologians interpret to be a preincarnate appearance of Christ4 – to sustain them in the midst of the flames. This illustrates my point that God often does not exempt His children from suffering, but He sustains them in the suffering. God's children are never alone in their trials.
Scripture is brimming with other examples of this:
God did not prevent Hagar from being mistreated by Sarah, but He was with Hagar in her time of suffering (Genesis 16).
God did not keep Joseph from being sold into slavery and taken to Egypt, but He was with Joseph in his unfair circumstances (Genesis 27-50).
God did not keep Moses from being mistreated by the Egyptians, but He was with Moses in his trials (Hebrews 11:24-27).
God did not keep David from being severely persecuted by Saul, but God did sustain and rescue David in these persecutions (1 Samuel 19:1-26:25).
God did not keep Daniel from the lion's den, but He was with Daniel in the lion's den (Daniel 6).
God did not keep the apostle Paul from going to jail, but He was with Paul in his jail experiences (Ephesians 3:1; Philippians 1:7; Colossians 4:10).
God did not keep the apostle John form being exiled on the island of Patmos, but He was with John in his time of exile (Revelation 1:9-10).
It seems obvious that God's pattern is often to save in, not from. This means that you and I may not be exempt from trials, but we can be sure that God is with us through all of them.
This brings to mind Psalm 23:4, in which David reflected: "Even though I walk through the valley of the shadow of death, I will fear no evil, for you are with me; your rod and your staff, they comfort me." The "valley of the shadow of death" refers to a treacherous, dreadful place. In fact, many scholars believe the phrase is more accurately translated "the valley of deep darkness." It may be that David was thinking of an actual place in Palestine – "a chasm among the hills, a deep, abrupt, faintly lighted ravine with steep sides and a narrow floor."5 This place is a home for vultures by day and a haven for wolves and hyenas by night. The danger for defenseless sheep is obvious.
Because he knew the Lord was with him, David feared no evil while passing through the valley of the shadow of death. The truth we draw from this verse is that while God may not keep us from going through such dark circumstances, God is with us in our circumstances, and we need not ever fear. Just as a shepherd with his rod and staff comforts his sheep, so God – or more specifically, Christ our Shepherd – comforts us, even in the midst of distressing circumstances.
The instruments used by ancient shepherds were highly effective. The rod is a great oak club about two feet long. It had a round head in which the shepherd pounded sharp bits of metal. This rod was specifically used to protect the sheep from wild animals. "A skillful shepherd not only swung the club to smash the head of an attacker but he could also hurl the club like a missile over the heads of his flock to strike a wolf lurking in the distance."6
Have something to say about this article? Leave your comment via Facebook below!
advertise with us
Example: "Gen 1:1" "John 3" "Moses" "trust"
Advanced Search
Listen to Your Favorite Pastors