Why Do Bad Things Happen If God Is Good?
Ron Rhodes, Author
Tuesday, June 08, 2004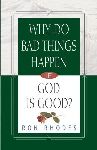 The staff was bent or hooked at one end. It was often used by shepherds to restrain a sheep from wandering off from the flock or to hook its legs to pull it out of a hole. At other times, the shepherd would use the staff to pull branches aside when a sheep got entangled in the brush. By using the rod and the staff, the shepherd brought "comfort" to the sheep (Psalm 23:4). The Hebrew word for "comfort" literally means "to give strength" or "empower." In the presence of their shepherd, the sheep were strengthened and empowered because they knew they were secure in his presence.
The same is true of each of us as Christ's sheep. Knowing that He is with us every step of the way and that we are never alone, we have strength to cope with whatever might come our way. We will never find ourselves in situations the Lord is not aware of, and He will never leave or forsake us (Hebrews 13:5). The divine shepherd does not exempt us from such situations, but He is always with us in such situations.
Healing Hearts: It Is Well with My Soul
Every time I hear the story, my heart swells in praise to God for His faithfulness.
Horatio Gates Spafford was a personal friend of the great evangelist, Dwight Moody. Spafford and his family decided to go to England in November, 1873, to join Moody and Ira Sankey on an evangelistic crusade, and then travel in Europe. Spafford had to attend to some last-minute business before he could leave, so he sent his family on ahead on a great ship – a French steamer called the Ville de Havre.
Tragically, the ship never made it to its destination. It collided with another ship off the coast of Newfoundland and quickly sank. Only 47 of the 226 passengers survived. One of these was Spafford's wife, Anna. Their four young daughters – Maggie, Tanetta, Annie, and Bessie – drowned and perished in the harsh, icy waters. I can hardly imagine what Spafford must have felt when he received a telegram from his bereaved wife saying, "Saved alone."
Spafford immediately dropped all business and boarded the next ship so he could be with his wife. Upon reunited, they met with Moody. Spafford said to him, "It is well. The will of God be done."
We do not know exactly when, but some time after this overwhelming personal tragedy, Spafford penned the lyrics to one of the most beloved hymns in Christian history, "It Is Well with My Soul." His words stir the soul:
When peace, like a river, attendeth my way,
When sorrows like sea billows roll;
Whatever my lot, Thou hast taught me to say,
It is well, it is well with my soul.

It is well with my soul;
It is well, it is well, with my soul.

Though Satan should buffet, though trials should come,
Let this blest assurance control,
That Christ hath regarded my helpless estate,
And hath shed His own blood for my soul.

It is well with my soul;
It is well, it is well, with my soul.

My sin – oh, the bliss of this glorious thought:
My sin, not in part, but the whole
Is nailed to the cross, and I bear it no more.
Praise the Lord, praise the Lord, O my soul.

It is well with my soul;
It is well, it is well, with my soul.

And, Lord, haste the day when our faith shall be sight,
The clouds be rolled back as a scroll,
The trump shall resound, and the Lord shall descend;
"Even so," it is well with my soul …

It is well with my soul;
It is well, it is well, with my soul.
Horatio Gates Spafford experienced the reality that though God does not exempt us from suffering, He is always with us in and through out times of suffering. Spafford experienced a supernatural peace and comfort that only God can give.
Have something to say about this article? Leave your comment via Facebook below!
advertise with us
Example: "Gen 1:1" "John 3" "Moses" "trust"
Advanced Search
Listen to Your Favorite Pastors