Wild Goose Chase
Mark Batterson, Author
Tuesday, August 19, 2008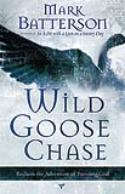 The trip consisted of one adventure after another. So the saying in Spanish that we saw on a Sprite can that week seemed fitting, and we adopted it as our mantra: Otro día, otra aventura. Translation: "Another day, another adventure."
I love those four words inspired by Sprite. They capture the essence of what we experienced day in and day out in the Galápagos. I think those words resonate with one of the deepest longings in the human heart—the longing for adventure. And I'm not sure I could come up with a better description of what it's like to pursue God.
Take the Holy Spirit out of the equation of my life, and it would spell b-o-r-i-n-g. Add Him into the equation of your life, and anything can happen. You never know who you'll meet, where you'll go, or what you'll do. All bets are off.
If you would describe your relationship with God as anything less than adventurous, then maybe you think you're following the Spirit but have actually settled for something less—something I call inverted Christianity. Instead of following the Spirit, we invite the Spirit to follow us. Instead of serving God's purposes, we want Him to serve our purposes. And while this may seem like a subtle distinction, it makes an ocean of difference. The result of this inverted relationship with God is not just a self-absorbed spirituality that leaves us feeling empty, it's also the difference between spiritual boredom and spiritual adventure.
CAGED CHRISTIANS
Situated five hundred miles off the coast of Ecuador, the Galápagos chain is one of the most primitive places on the planet. While many of the islands in the forty-nine-island archipelago are inhabited, most of them are absolutely undomesticated. When I was there, I felt as if I were as far from civilization as I could get. It was Edenic.
Somehow I felt a new affinity with Adam in the Galápagos environment. It helped me imagine what life must have been like before the Fall. Scripture tells us that one of the first jobs God gave Adam was naming the animals.2 And we read right past it. But it must have taken years of research and exploration to complete the project. I don't think God paraded the animals past Adam in a single-file line; I'm guessing God let Adam discover them in their natural habitats. Imagine how thrilling it must have been for Adam to catch his first glimpse of wildebeests stampeding, mountain goats climbing, or rhinos charging.
That's how I felt when I was in the Galápagos. And it was there that I discovered the difference between seeing a caged animal at a local zoo and getting within arm's length of a mammoth marine iguana or walking a beach with hundreds of barking sea lions or floating above manta rays as they glide along the ocean floor. It's one thing to see a caged bird. It's an altogether different experience to see a pelican that looks like a prehistoric pterodactyl circling fifty feet above your boat, dive-bombing full speed into the ocean, and coming up with breakfast in its oversize beak.
Few things compare to the thrill of seeing a wild animal in its natural habitat. There is something so inspiring about a wild animal doing what it was created to do. Uncivilized. Untamed. Uncaged.
So a few weeks after returning from the Galápagos, our family spent an afternoon at the National Zoo near our home in Washington DC. It's a fantastic zoo. But it just wasn't the same after the Galápagos. I'm ruined for zoos. It's not the same seeing a caged animal.
It's too safe. It's too tame. It's too predictable.
At one point we were walking through the ape house, and I had this thought as I looked through the protective Plexiglas window at a four-hundred-pound caged gorilla: I wonder if churches do to people what zoos do to animals.
Have something to say about this article? Leave your comment via Facebook below!
advertise with us
Example: "Gen 1:1" "John 3" "Moses" "trust"
Advanced Search
Listen to Your Favorite Pastors