Wild Goose Chase
Mark Batterson, Author
Tuesday, August 19, 2008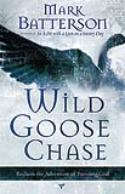 I love the church. I bleed the church. And I'm not saying that the way the church cages people is intentional. In fact, it may be well intentioned. But too often we take people out of their natural habitat and try to tame them in the name of Christ. We try to remove the risk. We try to remove the danger. We try to remove the struggle. And what we end up with is a caged Christian.
Deep down inside, all of us long for more. Sure, the tamed part of us grows accustomed to the safety of the cage. But the untamed part longs for some danger, some challenge, some adventure. And at some point in our spiritual journey, the safety and predictability of the cage no longer satisfies. We have a primal longing to be uncaged. And the cage opens when we recognize that Jesus didn't die on the cross to keep us safe. Jesus died to make us dangerous.
Praying for protection is fine. I pray for a hedge of protection around my three children all the time. You probably pray that kind of prayer too. But when was the last time you asked God to make you dangerous?
I would like to think that when I pronounce the benediction at the end of our church services, I am sending dangerous people back into their natural habitat to wreak havoc on the Enemy.
LIVING DANGEROUSLY
Every once in a while, I have random thoughts that seem to come out of nowhere. Here's a thought that fired across my synapses not long ag Do angels yawn?
I know it seems like an inane theological question, but I seriously wonder if angels have the capacity to get bored. More important, I wonder if some of us are living such safe lives that not only are we bored, but so are our guardian angels. If they could, would our guardian angels coax us out of our cage and beg us to give them something dangerous to do?
In the pages that follow you'll meet some dangerous people. Mind you, they're ordinary people. They have doubts and fears and problems just like you and me. But their courage to come out of the cage and live dangerously for the cause of Christ will inspire and challenge you to follow them as they follow the Spirit's leading.
I think of Ana Luisa, who used her award miles to fly to India and sacrificially serve some of the poorest of the poor at a medical clinic. I think of Mike, who started a dangerous ministry in a dangerous place—a porn show in Las Vegas. I think of Adam, whose sensitivity to the Wild Goose resulted in a life-changing encounter on a mission trip half a world away. And I think of Becky, who made a conscious decision to endanger her own life by becoming part of the crusade against human trafficking.
Since when did it become safe to follow Christ? Maybe it's time to come out of the cage and live dangerously for the cause of Christ.
SENSE OF ADVENTURE
The Danish philosopher and theologian Søren Kierkegaard believed that boredom is the root of all evil. I second the notion. Boredom isn't just boring; boredom is wrong. You cannot simultaneously live by faith and be bored. Faith and boredom are antithetical.
Against that backdrop, consider the gospel story of the rich young ruler. On paper the rich young ruler had it all: youth, wealth, and power. But something was still missing. The rich young ruler was bored with his faith. And I think it is evidenced by the question he asked Jesus: "What do I still lack?"3
I'll tell you exactly what he was lacking: spiritual adventure. His life was too easy, too predictable, and too comfortable. He kept all the commandments, but those commandments felt like a religious cage. I think there was a deep-seated longing within him for something more than simply not doing anything wrong.
Listen, not breaking the prohibitive commandments is right and good. But simply not breaking the prohibitive commandments isn't spiritually satisfying. It leaves us feeling caged. And I honestly think that is where many of us find ourselves.
Have something to say about this article? Leave your comment via Facebook below!
advertise with us
Example: "Gen 1:1" "John 3" "Moses" "trust"
Advanced Search
Listen to Your Favorite Pastors