Wild Goose Chase
Mark Batterson, Author
Tuesday, August 19, 2008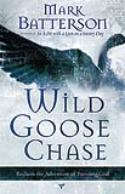 Sure, you can choose the safety and predictability of the cage, forfeiting the adventure God has destined for you. But you won't be the only one missing out or losing out. When you lack the courage to chase the Wild Goose, the opportunity costs are staggering. Who might not hear about the love of God if you don't seize the opportunity to tell them? Who might be stuck in poverty, stuck in ignorance, stuck in pain if you're not there to help free them? Where might the advance of God's kingdom in the world stall out because you weren't there on the front lines?
Jesus' disciples didn't just live an exciting life post-Pentecost; they turned the world upside down.7 And that's what you can be a part of too. Wild Goose Chase is an invitation to be part of something that is bigger than you and more important than you.
Are you in?
In the pages that follow I will identify six cages that keep us from roaming free with the Wild Goose and living the spiritual adventure God destined us to. I'm not sure which cages you may find yourself in. But the good news is this: you are only one Wild Goose chase away from the spiritual adventure God has destined for you.
The first cage is the cage of responsibility. Over the course of our lifetime, God-ordained passions tend to get buried beneath day-today responsibilities. Less important responsibilities displace more important ones. And our responsibilities become spiritual excuses that keep us from the adventure God has destined for us. Without even knowing it, we begin to practice what I call irresponsible responsibility. The Wild Goose chase begins when we come to terms with our greatest responsibility: pursuing the passions God has put in our heart.
The second cage, the cage of routine, is almost as subtle as the first. At some point in our spiritual journey, most of us trade adventure for routine. There is nothing wrong with a good routine. In fact, the key to spiritual growth is developing healthy and holy routines known as spiritual disciplines. But once a routine becomes routine, we need to disrupt the routine. Otherwise, sacred routines become empty rituals that keep us caged.
The third cage is the cage of assumptions. Our assumptions keep many of us from chasing the Wild Goose. I'm too old. I'm too young. I'm underqualified. I'm overqualified. It's too late. It's too soon. And the list goes on. As we age, many of us stop believing and start assuming. We stop living out of right-brain imagination and start living out of left-brain memory. And we put eight-foot ceilings on what God can do.
The fourth cage is the cage of guilt. The Enemy's tactics haven't changed since the Garden of Eden. He tries to neutralize us spiritually by getting us to focus on what we've done wrong in the past. Satan uses guilt to turn us into reactionaries. Jesus came to recondition our spiritual reflexes with His grace and turn us into revolutionaries for His cause. As long as you are focused on what you've done wrong in the past, you won't have energy left to dream kingdom dreams.
The fifth cage is the cage of failure. And, ironically, this is where many Wild Goose chases begin. Why? Because sometimes our plans have to fail in order for God's plans to succeed. Divine detours and divine delays are the ways God gets us where He wants us to go.
And the sixth and final cage is the cage of fear. We need to quit living as if the purpose of life is to arrive safely at death. Instead, we need to start playing offense with our lives. The world needs more daring people with daring plans. Why not you?
I want you to know that before you decided to read this book I started praying for you. I prayed that Wild Goose Chase would get into the right hands at the right time. So I hope this book is more than a casual read for you. It's a divine appointment waiting to happen.
Have something to say about this article? Leave your comment via Facebook below!
advertise with us
Example: "Gen 1:1" "John 3" "Moses" "trust"
Advanced Search
Listen to Your Favorite Pastors