Wind River
Tom Morrisey, Author
Tuesday, September 02, 2008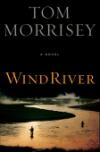 EDITOR'S NOTE: The following is an excerpt from Wind River by Tom Morrisey (Bethany House).
Wyoming -- Sixteen Years Ago
The morning sun had just cleared the summits to the east, and the grass in the small valley was still thick with dew, wetting the boots and the shins of the man and the boy.
The man, tall and unstooped, wore bib overalls over a flannel shirt, his feet shod with cream-soled tan work boots, white hair crowned with a faded green John Deere ball cap. Carrying a heavy Kelty backpack topped with a rolled tent, he walked confidently. His oaken walking staff, gripped just beneath the fist-size burl at its top, seemed to be more for cadence than support. The whiteness of his hair, his wire-rimmed bifocals, the crow's-feet next to his eyes, and a longish nose, just beginning to thicken, were the only hints that he was well past his middle years.
The boy wore a hooded sweatshirt and blue jeans bought too long and cuffed short so they wouldn't drag. His pack was little more than a rucksack, and in his right hand he carried an Orvis split-bamboo fly rod, fully assembled and bobbing before him like a slender, overlong divining rod. Like the man, his blondstreaked light-brown hair was also topped with a John Deere cap, only his cap was still brand-new.
A small movement in the woods high on the hill to their right brought both hikers to a halt. They stood there, silent, for a moment, the bright mountain sun reflecting off a thousand beads of water on the foliage around them. Then the man made a sound halfway between a cough and the caw of a crow.
Up on the slope, a deer stepped out from the trees, velvet nubbins of horn sprouting on his tawny head. The deer stared at the man and boy, took a tentative step in their direction, then turned and bolted back uphill, his white tail upright in alarm, the snapping branches marking his flight for several seconds after he had vanished back into the forest.
The man tamped his staff on the ground and chuckled. The boy looked his way.
"Why'd he come out like that?"
"I called him," the man said. "That sound I made? That's the sound his mama made when he was just a fawn, how she told him to stop doin' whatever he was doin' and get over to her. They hear it when they're growin' up, and they never forget it. Even if you can't bring a deer to you with that, you can freeze 'em in their tracks for just a second when they hear it. It's how they was raised."
The boy made the sound, a tenor echo of the man's warm baritone.
"That's it," the man told him. "You've got it."
They walked on in silence for the next few minutes, the trail winding down to the valley floor where it paralleled a small, clear creek.
The boy slowed, stepped nearer to the creek bank, and then looked back.
"Look." He pointed to the water, where several sleek brown shapes hovered in an eddy, a stray shaft of sunlight picking out the bright red patch just behind the upstream end of one undulating form. "There's cutthroat in there."
"Always have been," the man said. "But if you're thinking what I think you're thinking, then you may as well just give it up. Black bear fish this creek all the time, and them trout are way too skittish. I've seen lots'a folks fix to hook one, but fixin' is all they ever done. You can't catch 'em; they're too wild."
The boy scowled and looked back at the creek. He turned to the man again.
"Well, can I try, at least?"
The man looked around and then walked to a half-buried gray granite boulder sticking out of the purple mountain heather just above the trail. He shed his backpack and sat. "Sure," he said, leaning back against the rough rock. "I could use me a breather. But you're wasting your time, boy. Them trout are just way too wild."
Have something to say about this article? Leave your comment via Facebook below!
advertise with us
Example: "Gen 1:1" "John 3" "Moses" "trust"
Advanced Search
Listen to Your Favorite Pastors