Wind River
Tom Morrisey, Author
Tuesday, September 02, 2008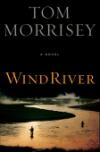 The man took one picture, then another. He glanced at the sun and said, "Breakfast was kind'a on the light side this morning. Want me to break out the stove and fry that fella up for you?"
The boy shook his head. "I just wanted to see if I could catch him. Let's let him go."
The man crooked an eyebrow. "That's no rainbow, you know. Cutthroat are smart. They remember. You won't be pullin' that prank on him twice."
Tyler laughed. "Then I'll just have to come up with a new prank."
He cocked his head. "Don't you think I should put him back?"
The man held up an index finger and then opened to the front of the little book he'd been studying. He leafed forward a few pages.
"'And God blessed them,'" he read, "'and God said unto them, Be fruitful, and multiply, and replenish the earth, and subdue it: and have dominion over the fish of the sea.'"
He closed the book and looked at the boy. "'Have dominion.' You know what that means?"
Tyler shook his head.
"It means you get to decide. That may be a fish of the creek instead of a fish of the sea, but it's close enough. You still get to call the shots. Cook him or set him free, God says you're the boss. Sure you don't want him for lunch?"
The boy shook his head again. "I want to put him back."
"All right. Turn him loose, then."
The hook came free with one turn and a pull, and the boy lowered the fish belly-first into the stream, moving him back and forth in the cold clear water until the trout's brown body quivered and it swam from his hands and shot for an undercut on the far side of the stream.
The boy handed the fly rod up to the man and clambered out of the water. The man had put the camera away and held out a dry pair of boot socks. Tyler nodded and accepted them, sitting down on the warm, rough surface of the boulder to pull off his sodden boots. A soft breeze ruffled the hair above his forehead as a yellow butterfly flitted nearby among the heather.
"Is that really true what you told me? That nobody has ever caught one of those trout before?"
"Not in all the years I've been comin' here. And I've been comin' here since before the war. Seen folks try it. Lots of folks. You're the only one I've ever seen do it."
The boy beamed, and the man seemed to dim a little, his smile straightening, eyes moving back to the jagged edge of the distant ridgeline.
"What are you thinking?"
The man smiled at him. "About how much I love coming here. About how I like being here with you."
"Then why did you look sad there for a little bit?"
The man cocked his head and studied the boy a moment, then turned his attention toward the ridge again, tucking the Bible back into his bib pocket and buttoning the pocket shut.
"I've been coming into the Wind River Range for more than fifty years, Tyler. Started when I was barely shaving. And now ... well, now I'm old."
"You're not old."
The man took his cap off and his white hair shone in the sun.
"There's snow on the mountain," he said, laughing.
"But you're still strong."
"Am now." The man nodded. "But I won't be forever. And I was just thinkin' that there'll come a day when I won't be able to do this anymore. When I won't be able to just pack up and go."
The boy looked at the ridge as well.
"Then I'll bring you," he finally said.
"How's that?"
"When you can't come on your own. I'll come and I'll get you and I'll bring you. I'll come to your and Miss Edda's house, and I'll put you in my truck and I'll bring you."
"You have a truck now, do you?"
Tyler shook his head. "Not yet. But I will when I'm a man. And I'll come and I'll get you and I'll take you into the Winds, just like you take me now."
The man smiled, tan skin crinkling more deeply behind his glasses at the corners of his blue eyes.
"Well, I'd like that," he said. "You wouldn't have to do it all the time. Who knows? When you grow up, you might live somewhere way across the country. But maybe when I'm too old to come up here all by my lonesome ... maybe you can come get me sometime and bring me back up for one last trip. Could you do that?"
Have something to say about this article? Leave your comment via Facebook below!
advertise with us
Example: "Gen 1:1" "John 3" "Moses" "trust"
Advanced Search
Listen to Your Favorite Pastors