Worship Matters
Bob Kauflin, Author
Thursday, May 01, 2008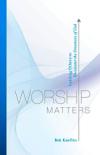 Despite these and other difficulties, you believe the joys of leading worship far outweigh the challenges. You wouldn't think of giving it up.
You just want to do it better. More effectively. More skillfully. More faithfully.
I'm guessing that's why you picked up this book. I hope so because that's why I wrote it.
But I have to confess something.
I didn't write this book simply to help you be a better worship leader. There's more at stake here.
After thirty years of leading worship, I've realized that worship isn't just an opportunity to use my musical gifts. It's more than a heightened emotional experience or a way to make a living. It's way more than what we do on Sunday morning.
Worship is about what we love. What we live for.
It's about who we are before God.
This book is filled with practical ideas for leading worship. But we don't start there. These initial chapters are about the way we think and live. I want to challenge, encourage, and inspire you to live your life for the glory and praise of Jesus Christ. Holding nothing back. Giving no ground. It's the only kind of life that makes sense for someone who leads worship.
But first, a little background.
HOW I GOT HERE
My first experience of music in a church context came as a Catholic, when I played the organ for Masses, weddings, and funerals. There wasn't much "leadership" involved. I just played what I was told. When I could, I'd sneak in "sacred" versions of Beatles tunes, college fight songs, or nursery rhymes to make it interesting.
In the early seventies, I majored in piano at Temple University in Philadelphia. I became a Christian during my first year and started visiting a Baptist church on campus. When my friends and I noticed we were the only people in the church under sixty, we tried starting our own church in the dorms. That lasted two meetings.
Then someone invited us to a charismatic church in Center City Philadelphia. We heard the meetings were pretty lively, especially when they broke into line dancing around the pews. I helped with the worship team there and eventually was asked to lead, to use the term generously.
Between my junior and senior years at Temple, I came across a small, humble group of Christians in rural Pennsylvania who claimed Scripture as their only doctrine. The women wore head coverings, the men had beards, and they sang without instruments.
My worship world was diversifying.
After getting married and graduating from college in 1976, my wife, Julie, and I spent eight years with the Christian music group GLAD. We traveled across the U.S. learning what worship meant to Baptists, Assemblies of God, Catholics, Methodists, Lutherans, Episcopalians, Presbyterians, and a host of nondenominational churches.
Some churches followed centuries-old liturgies. Others were "Spiritfilled" and looked for God to show up in prophetic words, tongues, or some other spontaneous event.
In too many churches we detected a disconnect between the God they worshiped on Sundays and the one they seemed to follow during the week.
I continued to lead worship in my local church when we weren't traveling. But in 1984 I said good-bye to life on the road. I thought I might be called to be a pastor.
The following year I joined the staff of a church related to Sovereign Grace Ministries, led by C. J. Mahaney. I led the worship team there for six years, then helped plant what's now Crossway Community Church in Charlotte, North Carolina. I experienced firsthand the challenges and joys of overseeing a worship team in a new church.
In 1997 C. J. invited me to Covenant Life Church, a congregation of 3,000-plus members near Washington, D.C., to serve in my present role. As you might guess, leading worship in a large congregation is different from a church plant. More people to organize, more songs to learn, more meetings to work around, more equipment to deal with, and more potential problems.
Have something to say about this article? Leave your comment via Facebook below!
advertise with us
Example: "Gen 1:1" "John 3" "Moses" "trust"
Advanced Search
Listen to Your Favorite Pastors