Young, Restless, Reformed
Collin Hansen, Author
Tuesday, May 20, 2008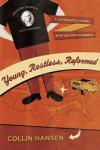 EDITOR'S NOTE: The following is an excerpt from Young, Restless, Reformed by Collin Hansen (Crossway Books).

Chapter One: Born Again Again
Passion Conference, Atlanta, Georgia
Downtown Atlanta was prepared to host the 1996 Summer Olympics. But I don't know if any city is prepared to accommodate nearly twenty-three thousand college students all trying to check into their hotels at the same time. At least not when they show up New Year's Day less than twenty-four hours after the home-state football team won a bowl game in Atlanta's Georgia Dome.
Daunting lines at the Sheraton Hotel ruined my best-laid plans to arrive on time for the opening session of the 2007 Passion conference. The downstairs lobby teemed with college students knitting, chatting, or listening to iPods as they waited in lines that did not move. After a few minutes of moping and fruitless scheming, I determined to make the best of a bad situation. Suddenly the insufferable lines appeared differently—a captive interview audience, I thought.
Soon I overheard two young men in the line next to me talking about theology and church. There is no tactful way to butt in on someone else's conversation. So I just asked why they signed up for Passion. The older man said he escorted a group of college students from Florida Hospital Church, a Seventh-day Adventist congregation in Orlando. Among them was Robin Treto, eighteen, a freshman at Seminole Community College. "I'm a John Piper fiend," Robin responded. He spoke excitedly, yet with careful thought for his words.
"He's so Jesus-centered in his preaching," Robin said of Piper. "He doesn't just share anecdotal stories. I look to guys like Piper because he looks to Jesus."
Piper, the best-selling author and pastor for preaching at Bethlehem Baptist Church in Minneapolis, Minnesota, is a Passion fixture. His book Don't Waste Your Life emerged from a talk he delivered in front of about forty thousand students for the Passion OneDay event in 2000. But what exactly is a John Piper fiend? Robin apparently listened online to two hundred Piper sermons from the book of Romans alone during just four months. That's a John Piper fiend.
I was curious to learn from Robin how an Adventist student from Florida became such a big fan of a Baptist pastor in Minnesota. Seventh-day Adventists have sometimes worshiped at arm's length from the evangelical mainstream. Robin began to explain that he has only believed in Jesus Christ for a couple of years. Just a few months earlier, Robin would not have been confused by anyone for the type who sits down and listens to hundreds of sermons. Between smoking marijuana and heavy alcohol use, Robin had rebelled against what he described as the legalistic environment at the Adventist church of his parents, who had emigrated from Cuba.
Robin's lifestyle began to change when he was sixteen. The older cousin who introduced him to party life began talking about Jesus. His cousin had been touched by the gospel. Sitting together at his cousin's house, they opened the Bible and read Romans 8 together. Robin was so impressed by the dramatic and unexpected conversion that he patiently heard his cousin out. But the Bible did not make sense to him. Frustrated, Robin left his cousin's house confused. Yet as he sat in his car and prepared to drive away, everything suddenly changed. The words of Scripture began to strike him as true. He understood at once that Jesus Christ had paid the penalty on the cross for his sins and three days later rose from the dead, achieving salvation for those who would believe. In a moment Robin lost his heart for partying but gained a new heart filled with passion for God.
"That's why I have hope for a generation like ours," Robin told me. "The gospel is powerful enough to change hearts."
Have something to say about this article? Leave your comment via Facebook below!
advertise with us
Example: "Gen 1:1" "John 3" "Moses" "trust"
Advanced Search
Listen to Your Favorite Pastors