Young, Restless, Reformed
Collin Hansen, Author
Tuesday, May 20, 2008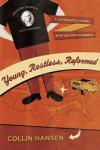 Robin did not return to his parents' church. But he did not leave Adventism. Shortly after Robin's conversion, a pastor from a nearby Adventist church gave him CDs with conference talks from C. J. Mahaney, a charismatic teacher from suburban Maryland. Mahaney delivered the messages over the span of six years at the New Attitude conference, launched by pastor/author Joshua Harris for young adults. Robin also listened to some of Harris's talks. During one message, Harris quoted Piper's manifesto, Desiring God. This stirring call to "Christian hedonism" argues that "God is most glorified in us when we are most satisfied in him."1 Piper's teaching about Calvinism squared with Robin's growing knowledge of Scripture.
You will find no explanation and no index entry for Calvinism in Desiring God. But it's all there, if you know what to look for. Calvinists— like their namesake, Reformation theologian John Calvin—stress that the initiative, sovereignty, and power of God is the only sure hope for sinful, fickle, and morally weak human beings. Furthermore, they teach that the glory of God is the ultimate theme of preaching and the focus of worship.
Many recognize Calvinism, described by some as Reformed theology, by the acronym TULIP.2 You won't find these terms in Desiring God either. But you will find the concepts as early as the second chapter. Piper quotes Romans 3:10—"None is righteous, no, not one" (Total depravity). A little later Piper writes, "Regeneration is totally unconditional. It is owing solely to the free grace of God. 'It does not depend on the one who wills or runs, but on God who has mercy' (Romans 9:16). We get no credit. He gets all the glory."3 Here you can see Unconditional election and a hint of Irresistible grace. Piper explains Limited atonement in a footnote. "All contempt for [God's] glory is duly punished, either on the Cross, where the wrath of God is propitiated for those who believe, or in hell, where the wrath of God is poured out on those who don't."4 In a later footnote Piper defends eternal security, or Perseverance of the saints, from Romans 8:30—"And those whom [God] predestined he also called, and those whom he called he also justified, and those whom he justified he also glorified."5
These beliefs didn't go down easy with Robin. He described Calvinism as rough sledding at first. God's sovereignty was a fearsome concept. But these fears evaporated as he saw the scriptural basis through positive presentations.
"Guys who taught it to me—Mahaney, Harris, Piper—said it humbly and so passionately," Robin explained. "They loved what they were talking about."
I asked Robin how Calvinism meshes with the Adventist church he attends. "It doesn't," Robin answered. He spent his first semester of college studying theology at Southern Adventist University in Tennessee. His increasing unwillingness to go along with unique points of Adventist theology led to conflict with faculty. He returned home to Orlando rather than cementing an unwanted reputation as the only non-Adventist theology major.
But if he's not Adventist, why does Robin still attend an Adventist church? Because that's where he can make a difference and maybe even teach others with his Calvinist theology. Besides, since Adventists meet on Saturdays, he can spend his Sunday mornings in Saint Andrew's Chapel in Sanford, Florida, where R. C. Sproul preaches. He first heard about the famed Calvinist teacher when he read Sproul's classic The Holiness of God. He was thrilled to learn that Sproul, a Presbyterian, preaches in the Orlando area. Robin considers Sproul to be the best Bible teacher in town. "But I skip the first thirty minutes," Robin clarified. He arrives just in time to miss the traditional music but still catch the sermon. That's no surprise. Sproul doesn't exactly share a taste for the modern praise music that unites the college students at Passion.
Have something to say about this article? Leave your comment via Facebook below!
advertise with us
Example: "Gen 1:1" "John 3" "Moses" "trust"
Advanced Search
Listen to Your Favorite Pastors