Young, Restless, Reformed
Collin Hansen, Author
Tuesday, May 20, 2008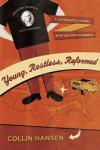 Already by the early 1800s during the Second Great Awakening, Calvinism had sustained some serious blows. Infighting plagued the successors to Edwards in New England. Many Southern Presbyterians defended slavery using Scripture. Renowned evangelist Charles Finney, meanwhile, claimed the Reformed heritage but turned many of its teachings upside down.
More recently, Calvinism lost favor as the church growth and charismatic movements swept through American evangelicalism. Church growth principles urged a focus on common-denominator Christian basics, not including doctrines such as predestination. Fast-growing Pentecostal and charismatic churches trace their roots to the Wesleyan/holiness tree. To be sure, Calvinism never went away. But it did remain largely quarantined among the ethnic Dutch in the Christian Reformed Church or the Princeton Presbyterians who built Westminster Theological Seminary in Philadelphia.
When I first wrote for Christianity Today in September 2006 about the resurgence of Calvinism among young evangelicals,8 I heard from many pastors, theologians, and lay leaders in these traditional communities. "Um, hello!" they gently reminded me. "What about us? Don't call it a comeback, Hansen. We didn't go anywhere!" Duly noted. Yet for a tradition that claims John Calvin and Martin Luther, Reformed theology had shriveled into a gaunt caricature of its former self. Who but the gallant few at Banner of Truth kept Puritan writings in print? Who but theologians J. I. Packer and R. C. Sproul convened audiences interested in Reformed theology? Who but the small circle of founders-friendly churches recalled that Calvinists founded the Southern Baptist Convention? Even these stalwarts likely never envisioned that today Sovereign Grace churches pair charismatic worship with Calvinist theology. They still don't know what to make of the radical church planters who fly the Reformed banner as they employ missional evangelism techniques. They probably never expected a pastor with such definite, controversial views to be warmly received by more than twenty thousand college students who dig modern praise music. These are a few of the leads I pursued to learn about the reasons for the latest Calvinist comeback.
After Joshua Harris attended Passion in 1999, he sought Giglio's help to plan a similar event, from which blossomed the current version of his New Attitude conferences. Harris, the thirty-three-year-old senior pastor of Covenant Life Church in Gaithersburg, Maryland, is widely known for his best-selling book I Kissed Dating Goodbye. But dating polemics take a backseat these days to leading a thriving church at the heart of the growing Sovereign Grace church network. The compassionate, soft-spoken Harris told me he found Giglio's God-centered focus at Passion to be refreshing. "What I grew up with was so man-centered," Harris said. "It was all about you and what you do and what you accomplish. Even the songs we sang were so self-centered about God: 'Do this for me.'"
It's pretty common to hear Reformed leaders lament modern praise music. They bemoan forgotten hymns, shallow theology, and repetitive refrains. But you won't hear Piper complain—at least not about the good stuff. "The worship songs that are being written and sung today are about a great God," he said. "They have set the stage for the theology. I still don't understand why many churches don't follow that with preaching that gets the theology of the songs. But at least for the Passion movement, that music is very God-exalting. The things that nineteen-year olds are willing to say about God in their songs is mind-boggling."
Piper could be thinking about a number of songs belted out by the throngs that packed Atlanta's Phillips Arena, normally home to professional basketball and hockey franchises. I considered Chris Tomlin's "Indescribable": "All powerful, untamable, awestruck we fall to our knees as we humbly proclaim you are amazing God." I also recalled one of my favorite songs, "Wholly Yours" by the David Crowder Band: "I am full of earth, you are heaven's worth; I am stained with dirt, prone to depravity; you are everything that is bright and clean, the antonym of me, you are divinity."
Have something to say about this article? Leave your comment via Facebook below!
advertise with us
Example: "Gen 1:1" "John 3" "Moses" "trust"
Advanced Search
Listen to Your Favorite Pastors