Young, Restless, Reformed
Collin Hansen, Author
Tuesday, May 20, 2008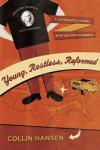 Smith and Denton write, "We suspect that there are opportunities to show youth how very conventional they are actually acting, how unexciting they are in their approach to faith, to create discomforts to motivate them to more seriously engage what faith is and might be in their lives."14
They warn middle-aged religious leaders not to expect today's youth to think and behave as they did in the more tumultuous 1960s and 1970s. "[O]ur findings suggest to us that religious communities should also stop—again, as we not infrequently observe—presuming that U.S. teenagers are actively alienated by religion, are dropping out of their religious congregations in large numbers, cannot relate to adults in their congregations, and so need some radically new 'postmodern' type of program or ministry."15
So what do they need? Though it may be dominant among today's American teenagers, Moralistic Therapeutic Deism cannot save. As evangelicals graduate from high school and leave the churches of their youth, many end up at conferences like Passion or New Attitude and begin to be transformed by the transcendent God they behold through Reformed theology. I suspect that Calvinism strikes a chord with these college-age students precisely because Moralistic Therapeutic Deism has infiltrated so many evangelical youth groups.
In offering this hypothesis, I speak with some experience. I had been a Christian for about two and a half years when I arrived in Evanston, Illinois, in 1999 to study journalism at Northwestern University. During my last two years in high school I had helped lead United Methodist Youth Fellowship at my family's small church in rural South Dakota. The denomination even paid for me to fly to Los Angeles to attend a conference for youth considering full-time ministry.
All the while, my knowledge of Scripture grew little. Sin plagued me with guilt, and I saw little victory over temptation. I'm glad neither Smith nor Denton called to ask me what Christians believe. Yet I knew without a doubt that I had been saved. I recalled with joy the moment my resistance fell and I trusted in Christ to forgive me of my sins. I knew God gave his church the Bible so that we might know about Jesus and learn the story of salvation. I actively shared with unbelieving friends and family about the joy God had given me.
Even before I enrolled, I confirmed that Campus Crusade for Christ ran a chapter at Northwestern. I harbored no false expectations about the climate for Christians at this school that long ago ditched its Methodist roots. I hoped Crusade would help me grow in the faith and introduce me to other students trying to follow Christ. Crusade did that—and much, much more. Our campus director studied for his Master of Divinity degree up the road at Trinity Evangelical Divinity School. Most Crusade students attended a nearby Evangelical Free church, pastored by a Trinity grad. My first morning in church, the pastor rocked my Methodist sensibilities. It wasn't so much the sermon's content that shocked me. Rather, I was surprised the sermon contained any content at all. On top of that, the pastor even raised his voice a few times and preached for more than thirty minutes. That kind of behavior gets you fired by Midwestern Methodists.
I had never heard of Calvinism until a Crusade friend, also a Methodist, told me she believed that God predestines salvation. Before long that's what I believed too. My weekly Bible study with fellow freshmen worked through Romans. An older student took me to hear R. C. Sproul preach. I didn't go looking for Reformed theology. But Reformed theology found me. Beginning college as I did with an almost blank slate, Calvinists impressed me with their knowledge of Scripture and devotion to theological depth. Calvinism made the best sense of what Scripture teaches about salvation. None of this theology seemed to dampen my friends' passion to evangelize the campus and consider serving as missionaries after graduation. As I began teaching Bible studies and mentoring younger students, we discussed Calvinism. One day between classes I sat eating in a dorm with one of my friends and his academic adviser, a history professor. We began talking about the Puritans and Calvinism—surely the only time this has happened to him before then or since. I professed, "I am a Calvinist."
Have something to say about this article? Leave your comment via Facebook below!
advertise with us
Example: "Gen 1:1" "John 3" "Moses" "trust"
Advanced Search
Listen to Your Favorite Pastors