Your Signature Work: Play Your Position
Dianna Booher, Author
Tuesday, August 24, 2004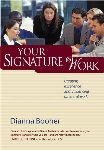 Commit to the Success of Your Organization
Why should your organization have to earn your loyalty?  Did your parents have to earn your love?  Did your school have to earn your respect?  Does your favorite charity have to win your favor every year for a donation?  Does your country have to earn your devotion?  You commit to some organizations, causes, and purposes just because you believe in them – their services, their products, their customers, their mission.
Motivate and Mentor Yourself
You hear it often, in tones of either dejection or astonishment:  "My company doesn't even offer a mentoring program."  Or, "This company doesn't even offer a mentoring program."  Or, "This company doesn't even have a tuition-reimbursement plan."  Being accountable means accepting responsibility for your own morale, motivation, and mobility.  Identify what you don't know.  Find out who can teach it to you.  Ask others to let you observe and learn from them.  Plan your educational road map, and be willing to pick up the tab.  After all, you'll be reaping the benefits for the rest of your life.
Become Financially Savvy
Understand how a business works and how your own organization makes money.  What are its expenses, and what generates its profits?  How do you and your job alter the picture?  Move around the organization and learn the same thing about every department in the organization – do the people there cost money or make money for the team?  How?
Focus on Your Own Deliverables and Forget about Others' To-Do Lists
Build your own integrity by delivering on your promises.  Do what you say you will.  Then stop grousing about others who don't meet deadlines or pull their own weight.  They must live with the consequences of their lost clarity, diminished credibility, and damaged relationships.
Accept the Fact that Some Predicaments Don't Have Perfect Solutions
Instead of striving for perfection, settle for progress.  Progress happens on our watch – if only because it transforms and teaches us how to cope in an imperfect situation. 
Vow to Do Your Best with What You Have
Anyone can succeed with the right people, ample resources, appropriate support, and adequate time.  Remove one of the legs from the stool, and you have a challenge worthy of your best talents.  Measure your results by how well you accept and meet the challenge before you.
Live with Uncertainty
Stop expecting your leaders – organizational leaders, national leaders, world leaders – to read a crystal ball.  Plan for tomorrow, but work within the parameters of today.
Signature Stars play their positions by being fully accountable for what happens on their watch and by assuming responsibility for results.  Playing the blame game does not interest them.  They prefer to take on the challenge of unpredictable situations under less-than-desirable circumstances and work to deliver dynamic results.
What have you not yet accepted  full accountability for in your imperfect world? 
No individual raindrop ever considers itself responsible for the flood. 
– UKNOWN
*As a Signature Star, Your Autograph Says You … Accept responsibility for results.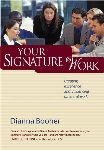 Excerpted from "Your Signature Work:  Pursuing God's Best at Work." Copyright 2004 by Dianna Booher.  Used by permission of Tyndale House Publishers.
Dianna Booher is an internationally recognized business communication expert and the author of 42 books and numerous videos, audios, and Web-based e-learning products for improving communication and productivity.  She holds a master's degree in English from the University of Houston. Dianna and her husband, Vernon, have two grown, married children. They live in the Dallas-Fort Worth metroplex.
Have something to say about this article? Leave your comment via Facebook below!
advertise with us
Example: "Gen 1:1" "John 3" "Moses" "trust"
Advanced Search
Listen to Your Favorite Pastors