Boz the Bear Vs. Barney the Dinosaur
Annabelle Robertson, Entertainment Critic
Friday, November 10, 2006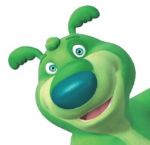 Move over, Barney.  There's a new kid in town. 

Or, so says my four-year-old, who dumped the purple dinosaur like a bowl of cold oatmeal after watching the "BOZ the Green Bear" video I recently gave her.
"I love BOZ," she said, prancing around the room to the catchy tunes emanating from our television.  "He's fun!"
Of course, so is Barney.  So much fun, in fact, that the happy-clappy Tyrannosaurus Rex has kept preschoolers under his spell for more than a decade. 
Like BOZ, Barney caters to preschoolers aged one through six and uses music to teach positive messages via a colorful, oversized character.  And, if the tie-in products already available (stuffed animal and board books) are any indication, the marketing of BOZ is also headed in the same direction as Barney. 
This is not surprising, perhaps, given that the two share a creator – Dennis DeShazer, one of Barney's original co-creators, and Jon Green, who worked on the business end with DeShazer.  But there, the similarities between Barney and BOZ end. 
First of all, Barney is "live action" – a dude in a dinosaur suit who dances around a set, much like a football mascot.  By contrast, "BOZ the Green Bear Next Door" (to use his full name) is animated – a cartoon character.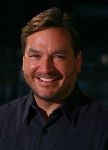 "We thought about making BOZ a live action character, but we really felt that to take him where we wanted, both physically and geographically, we needed him to be animated," says DeShazer.  "We wanted a character that could roll around on the ground and be really physically expressive.  We also didn't want to be limited by a set.  We wanted BOZ to be able to fly or go all around the world, if needed.  We can control all that with animation."
The second difference between Barney and BOZ is the presence of family.  Unlike Barney and his friends, whose interaction is almost exclusively with children, the BOZ videos center around the Baxter family, which includes Mr. and Mrs. Baxter; their children, four-year-old twins Drew and Gracie; and Grammie and Grampie B, their grandparents.  Graham Baxter, the twin's father, teaches math and coaches baseball at a local high school.  Julia Baxter, their mother, loves music, singing, dancing, piano playing and art.  Their grandparents are both retired, but very involved with the children.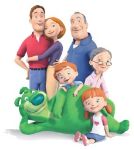 Unlike so many other shows for preschoolers, the adults are also front and center, interacting with the kids through shared meals, activities, lessons and bedtime stories.
"Children of this age are very much about their independence," DeShazer adds.  "They want to do things themselves and discover the world themselves.  But, in the end, they're right back in your lap, wanting to share that with you, their parent.  We try and portray that in our shows, whether it's at the dinner table or at bedtime, when there's a warm, family moment."
Even more significantly, none of the adults in BOZ are portrayed as the dim-witted, clumsy, or you-teach-me-how-to-parent characters that dominate so many other shows for children.
Recently on Movies at Home
Have something to say about this article? Leave your comment via Facebook below!
advertise with us
Example: "Gen 1:1" "John 3" "Moses" "trust"
Advanced Search
Listen to Your Favorite Pastors