"Duma" Deserves a Place in Every Family Film Library
Annabelle Robertson, Entertainment Critic
Thursday, May 11, 2006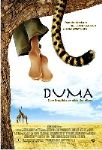 DVD Release Date:  May 16, 2006
Rating:  PG (for mild adventure/peril)
Genre:  Action/Adventure (Family)
Run Time:  100 min.
Director:  Carroll Ballard
Actors:  Hope Davis, Alex Michaletos, Campbell Scott, Eamon Walker
       
I often lament the fact that good family films are such a rarity in Hollywood.  Thanks to Carroll Ballard ("Fly Away Home"), however, there are now at least three:  "The Black Stallion," made in 1979 under executive producer Francis Ford Coppola (who attended UCLA with Ballard); "Fly Away Home," made in 1996; and now, "Duma."
Twelve-year-old Xan (Alex Michaletos) lives on a farm deep in the South African countryside with his mother, Kristen (Hope Davis, "About Schmidt") and father, Peter (Campbell Scott , "The Exorcism of Emily Rose," son of George C. Scott).  When a baby cheetah lands in their path, Xan adopts it – although his father makes it clear that the arrangement is only temporary.  The boy and the animal become best "friends" and playmates, but before long, "Duma" (as they call him) needs to be returned to the wild.
When tragedy strikes, their trip to the foot of the mountains where cheetahs roam is abruptly cancelled.  Everything that Xan knows and loves is also overturned, and he and Duma find themselves in the city.  When it becomes clear that Duma will be forced to live on a wild game preserve, Xan realizes he must return the cheetah to the wild alone.  The two thus embark on a perilous journey where, in addition to braving the heat and lack of provisions, they are pursued by crocodiles, lions and water buffalo.  They confront rapids, insect swarms and danger at the hands of a mysterious stranger (Eamonn Walker, "ER," "Lord of War").  Little does Xan realize, however, that the real journey he's on is inside his heart.
Based on the book, "How It Was With Dooms", by Carol Cawthra Hopcraft and Xan Hopcraft, "Duma" is told in a simplistic style which underscores the quality of this moving, beautiful film.  We see echoes of both "The Black Stallion" and "Fly Away Home," but the story is quite unique in a number of ways, particularly from other family films being made today.  First and foremost is the fact that it revolves around an actual story – something that modern filmmakers tend to shun with family films.  Impertinence, gimmicks, scatological humor and laughs at other's expense are the norm; story is the exception. 
By contrast, "Duma" contains real people struggling with very real situations.  The main character, played by Michaletos, is smart, sensitive and credible yet also respectful – especially of adults.  His relationship with his parents is strong.  In one scene, his mother instructs him to read a poem "like you're singing a song." 
Even more amazing, however, is the character of Ripkuna (Walker).  Instead of a depiction of the "perfect" African, always respectful and delighted to help the white man, which we so often see in films, this man is a complex mish-mash of brute and gentleman, ruthlessness and compassion.
"I'm very impressed," he quips, as Xan coaches Duma on proper "chase" technique.  "Your cheetah has caught an egg."
Recently on Movies at Home
Have something to say about this article? Leave your comment via Facebook below!
advertise with us
Example: "Gen 1:1" "John 3" "Moses" "trust"
Advanced Search
Listen to Your Favorite Pastors