Life After War Explored in Home of the Brave
Annabelle Robertson, Crosswalk.com Contributing Writer
Friday, October 26, 2007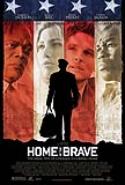 DVD Release Date: October 23, 2007
Theatrical Release Date: May 11, 2007
Rating: R (for war violence and language)
Genre: Drama
Run Time: 105 min.
Director: Irwin Winkler
Actors: Samuel L. Jackson, Jessica Biel, Christina Ricci, Curtis "50 Cent" Jackson, Chad Michael Murray, Brian Presley
In her new book, Purple Heart: Back from Iraq, award-winning documentary photographer Nina Berman shows readers the physical ravages of veterans returning home from the War on Terror. But her photographs reveal only a fraction of the many wounds and amputations that these heroes are actually facing.
The average mortality rate in Iraq and Afghanistan is less than it was in recent wars—10 percent, compared to 30 percent in World War II and 24 percent in Vietnam. However, the casualty rate is higher—much higher. To date, an estimated 60,000 soldiers have been injured in action, combat support and non-hostile situations, and a startling number of these have suffered amputations or head and neck injuries. U.S. troops injured in Iraq require limb amputations, in fact, at twice the rate of past wars, and as many as 20 percent suffer head and neck injuries. All of these have long-term implications. Head and neck injuries, for example, often result in irreversible brain damage, breathing and eating impairments, blindness and severe disfiguration.
It is these problems that director Irwin Winkler (De-Lovely, Life as a House) addresses in Home of the Brave, which focuses on an Army Reserve National Guard unit from Spokane, Washington deployed to the desert. Only days from coming home, their convoy is ambushed during a routine humanitarian mission into town. Samuel L. Jackson plays Army surgeon Will Marsh, who saves the life of cargo specialist Vanessa Price (Jessica Biel).
Back home, Vanessa must cope with the loss of her right hand. She can't carry out mundane tasks yet must somehow do her job as a single mother and a high school coach. Marsh must deal with his guilt from all the lives he couldn't save and all the limbs he amputated, in addition to constant flashbacks of the battle horrors. He copes by drinking, which only serves to alienate his wife and his anti-war teenage son.
Tommy Yates (Brian Presley) was also injured in the attack, but not as severely as his best friend, Jordan (Chad Michael Murray), who lost his life. Although the law states that Tommy's boss had to hold his job at home, he didn't, so Tommy ends up as an usher at a movie theatre, wishing he was back at war. Jamal Aiken (Curtis "50 Cent" Jackson) injured his back in the attack. But, like the other soldiers, his biggest wound is invisible. Jamal suffers from incredible guilt over his accidental—but understandable—shooting of an Iraqi civilian. To complicate things, he can't get any help from the Army and his girlfriend won't speak to him.
Winkler co-wrote this story, which is a remake of the 1946 film, The Best Years of Our Lives (about returning WWII vets), with Mark Friedman. It's Friedman's first screenwriting credit and Winkler's third, but Winkler's first two are minor and he has only a handful of directorial credits. Unfortunately, the pair's inexperience shows. Both the script and the direction tend toward melodrama and rely on war clichés to convey important truths.
With the exception of Tommy, the characters are thinly drawn and without much to say. And while the convoy ambush is very realistic, many scenes—like Marsh's drunken Thanksgiving—come across as amateurish. Jackson offers a decent performance, but Biel is far too bland in her role. I won't even mention 50 Cent, and Murray's role is too short for comment. Presley, however, does a great job, as do Victoria Rowell, as Marsh's wife, and Sam Jones III (son of the famous Boston Celtic), as Marsh's angry teenaged son.
Recently on Movies at Home
Have something to say about this article? Leave your comment via Facebook below!
advertise with us
Example: "Gen 1:1" "John 3" "Moses" "trust"
Advanced Search
Listen to Your Favorite Pastors