"Material Girls" Is Ridiculous to the Extreme
Annabelle Robertson, Entertainment Critic
Friday, December 15, 2006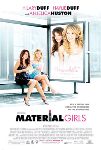 DVD Release Date:  December 12, 2006
Theatrical Release Date:  August 18, 2006
Rating:  PG (for language and rude humor)
Genre:  Comedy
Run Time: 99 min.
Director:   Martha Coolidge
Actors:  Hilary Duff, Haylie Duff, Maria Conchita Alonso, Lukas Haas, Brent Spiner, Marcus Coloma, Ty Hodges, Obba Babatunde
Oh, boy.  It's been a long time since I've seen a movie this bad.  Any movie.  But I do know what that movie was.  And, come to think of it, "New York Minute" also starred sisters playing sisters (Mary-Kate and Ashley Olsen) and was aimed at young girls.  Wow.  What a coincidence.
"Material Girls" introduces us to two rich teens, Tanzie (Hilary Duff) and Ava Marchetta (Haylie Duff), who are "the face of" and the heiresses to the prestigious Marchetta Cosmetics company, founded by their dead father.  Like another couple of heiresses in the media right now, these ladies live a life of luxury.  They party at nightclubs with their best (gay male) friend and celebrity boyfriend.  They shop.  They model.  And they're famous for being famous.
When the girls learn that Fabiella Cosmetics, run by arch-rival Fabiella (Anjelica Huston), is trying to take over Marchetta, they aren't concerned.  Business, what business?  Although Tanzie would like to go to UCLA to study chemistry, the girls mostly just want to keep modeling and partying.  But after an investigative journalist runs a report about some long-buried complaints, the company's stock plummets and all the girl's "friends" dump them.  Ava isn't even allowed into her own engagement party (where her TV star boyfriend dumps her, via his agent).  And for some unexplained reason, the girls' personal bank accounts are cut off.  After they then burn down their mansion and leave their only car, with keys, in a rough neighborhood (they assumed the thief was a valet), they're left with nothing – not even a Dolce & Gabbana nightgown – and must move in with the maid (Maria Conchita Alonso).
The way to solve their problems, says the Marchetta CEO (Brent Spiner) and their father's best friend, is to allow Fabiella to buy them out.  But $60 million apiece just isn't enough.  Boo hoo.  The girls therefore opt to "investigate" the claims of the alleged victims, with the help of a pro bono, non-profit lawyer.  In the process, they fall in love and live happily ever after with a parking valet and the lawyer, become wonderful people and find the cure for cancer.  Oh, wait.  Not that last bit.  Or the one before.  Because finally reuniting your maid with her kids and making cosmetics affordable for prostitutes – which summarizes the girl's entire character transformation – does not make one into a caring, compassionate individual.  Outside of Hollywood, anyway.
Every bit of dialogue is a cliché ("Oh, where's the spa when we need it?"), and none of it is funny.  Several plot points are established (like how Huston's character knows Ava likes massages) only to peter out, without explanation.  And, so many things are just plain absurd.  Like why Tanzie doesn't have a car (they can only afford one?); why the girls don't dial 911 from their diamond-encrusted cell phones as they're driving away from the fire; why there was never any talk about insurance money, after that fire; why "friends" would shun two celebrities, simply because their stock is dropping (like nobody attended Tom Cruise's wedding); and why the girls would assume their maid has valet-parking, given her scary, downtrodden neighborhood that they've never visited (but have no trouble finding, without a map or directions).  Need I go on?
Recently on Movies at Home
Have something to say about this article? Leave your comment via Facebook below!
advertise with us
Example: "Gen 1:1" "John 3" "Moses" "trust"
Advanced Search
Listen to Your Favorite Pastors