More Clean Comedy on Thou Shalt Laugh! 5
Laura MacCorkle, Senior Editor, Crosswalk.com
Thursday, June 30, 2011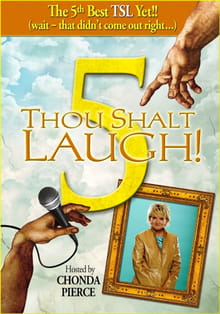 When's the last time you had a good belly laugh? And how did you feel afterward? Pretty good most likely.

Many of us would agree that there's nothing like some unbridled laughter to cure what ails us. And apparently, the makers of Thou Shalt Laugh! 5 couldn't agree more now with the release of the fifth installment in the best-selling Christian comedy DVD series that first came on the scene in 2006.
With over 90 minutes of comedy that won't make you cringe or have to fast-forward while the kids are in the room, Thou Shalt Laugh! 5 features the comic timing and chuckle-inducing skills of comedians Taylor Mason, Bone Hampton, Leland Klassen, Gilbert Esquivel, Daren Streblow and Joey I.L.O.
Joining the guys as host is the "Queen of Clean," Chonda Pierce, who happens to know a good joke when she hears it. Or tells it. The standup comic, television hostess and author is known for her unpretentious Southern charm and laser-sharp wit, and although her comedy is not the main focus of Thou Shalt Laugh! 5, she definitely gets a word or two in edgewise (and perhaps a hilarious joke about wearing Spanx) in between the comedians' sets.
I spoke with Chonda recently and asked her why laughter is so important, if it's okay for Christians to laugh (gulp) and what it was like to spend an evening of comedy onstage with her peers while filming the fifth Thou Shalt Laugh! clean comedy DVD in Nashville, Tennessee.

---

How did you become involved with Thou Shalt Laugh! 5?
You know, I answered the phone one day and there it was. I had heard of a couple of them down through the years when they were doing [Thou Shalt Laugh!], and to tell you the truth I kind of got my feelings hurt because I never got to do one. [Laughs.] Well yeah, they've been kind of looking for it but every time I was always either working or you know you have these managers that have to send you to Timbuktu, but it just worked out great this time. And also mainly because it was in my backyard. So I loved that they were recording it in Nashville, and I knew very well many of the comedians that were on there. It was just a delight to get to do. It was easy, you know. When you're hosting something, a lot of the pressure's not on you like when you're doing a really long bit of comedy and so I found it quite fun.

While filming, was there anything funny that happened behind the scenes or offstage that we don't see on the DVD?
Yes. If I told you, I would have to kill you. [Laughs.] The hardest part of the day was deciding what to wear. And you had fourteen men with three different opinions, and then I had to change my clothes like seven times before they would decide that this would be best in the lighting. And thanks to anti-depressants, I put on so much weight this year and that was the most humiliating moment of my life. But [because of] the adrenaline and the energy I guess did well, because then I was all fired up to do the show and you know and it was good. That's the best thing about my job. I always get the last word.

So you knew most of the comedians already. Were there any of them featured in the Thou Shalt Laugh! 5 lineup that you had not met before?
Gilbert Esquivel. I had never met him. Never had worked with him. He was hilarious. And funny. He's a consummate standup, and I know he's been at it for quite some time but I just have always missed him. The others I had heard of and/or worked with many times. So it was a delight to meet them. Now Joey I.L.O., I had not really worked with but I had seen him perform. And what a great young man! He is fairly new, well he'll probably say, 'No, I've been dragging around doing this for too long.' But when you've been at it for 20 years, he might have been at it five years or less and you go, 'Oh, you're just a young whippersnapper.' But yeah, he was great, too. All of them were just so good. You know I was talking to a girlfriend about this. You would think with a bunch of standup comedians in a row . . . we were going, 'It's going to be kind of weird, five comedians in a row. Don't you think that would get boring?' And it doesn't, because everyone is so different. And you'd think that the art of standup comedy you know, one would start cloning the other or you'd have some similar material, but every one of them is totally different, the approaches are different, the delivery is different, the timing is different. And so it just makes for a delightful night.
Recently on Movies at Home
Have something to say about this article? Leave your comment via Facebook below!
advertise with us
Example: "Gen 1:1" "John 3" "Moses" "trust"
Advanced Search
Listen to Your Favorite Pastors