More Clean Comedy on Thou Shalt Laugh! 5
Laura MacCorkle, Senior Editor, Crosswalk.com
Thursday, June 30, 2011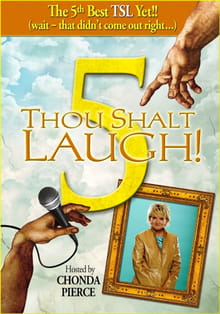 The DVD has the option of either watching the entire production from start to finish or just choosing from the individual comedians' sets. Which way of watching Thou Shalt Laugh! 5 do you think is best?
I say pop a big ol' bowl of popcorn and have a good night. If you leave one out, I couldn't imagine even telling you which one to leave out. They're all so individually good and perfected in their craft and just a delight. Minnie Pearl used to say, 'Y'all come to Nashville, we'll treat you so many different ways you're bound to like one of them. And that's exactly like this DVD. You're going to like all of them.

One of the comedians, Taylor Mason, has been on every Thou Shalt Laugh! DVD including this latest one. But he's also the only one who's got a dummy with him. What do you think about that?
Hey, don't talk about him like that. [Laughs.] He's the only one with the dummy. That's hilarious! We all have dummies, but some of us just don't perform with ours. [Laughs.] He's a great guy. And Taylor has, he's the only one who's been at this long enough, he's got enough material to be on all five DVDs. He's a great guy. Just a great guy.

So would you recommend this DVD as something that's suitable entertainment for the whole family?
I really would. Now your two-year-old's going to miss the big purple dinosaur, but other than that, it's really a lot of fun, and I can't recommend it more. And I'm really honored to get to do it. It was a delightful night for me and to get to see other comedians. You know we all feel that way. There's a great camaraderie among comedians, especially between those of us who profess to be born again Christians. Because in the standup comedy world, that is so much like an oxymoron, you know? So when we can get together and love on each other and be excited, it's a great, great fellowship.
For more information about Thou Shalt Laugh! 5, please visit www.thoushaltlaugh.com. For more information about the individual comedians involved in this production, please visit their respective sites:
Chonda Pierce
www.chonda.org
Taylor Mason
www.taylormason.com
Bone Hampton
www.bonehampton.com
Leland Klassen
www.lelandklassen.com
Daren Streblow
www.darenstreblow.com
Joey I.L.O.
www.myspace.com/ilocomedyshow

Recently on Movies at Home
Have something to say about this article? Leave your comment via Facebook below!
advertise with us
Example: "Gen 1:1" "John 3" "Moses" "trust"
Advanced Search
Listen to Your Favorite Pastors