Restored Ten Commandments Worth Another Look
Laura MacCorkle, Senior Editor, Crosswalk.com
Tuesday, March 29, 2011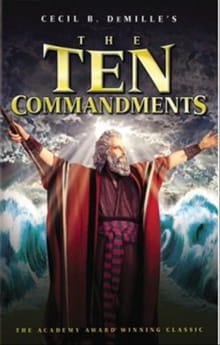 DVD Release Date: March 29, 2011
Rating: G
Genre: Drama, Adaptation, Historical
Run Time: 231 min.
Director: Cecil B. DeMille
Actors: Charlton Heston, Yul Brynner, Anne Baxter, Edward G. Robinson, Yvonne De Carlo, Debra Paget, John Derek, Sir Cedric Hardwicke, Nina Foch, Martha Scott, Judith Anderson, Vincent Price, John Carradine
Released theatrically in 1956, The Ten Commandments is just one of those films that seems as old as dirt. And for those of us of a certain age, we have undoubtedly seen this movie countless times, as year after year it's trotted out religiously by television networks to coincide with Holy Week and Easter.
However, now that the cinematic masterpiece (voted the tenth best film in the epic genre by the American Film Institute) has been fully restored and is available in high definition for the first time ever, it's worth another look.
Certainly, I had remembered that The Ten Commandments was a little over-the-top and sometimes campy in its performances, but also considered one of the great achievements in filmmaking. At the time, its set in the desert of Beni Yousef (south of Cairo, Egypt) was said to be the largest constructed movie set in history. Going on to win the Academy Award for Best Visual Effects (also nominated for Best Cinematography, Best Costume Design, Best Film Editing, Best Picture and Best Sound), it was also the last film made by celebrated director Cecil B. DeMille (The Greatest Show on Earth, The King of Kings).
What I didn't remember, however, were all of the creative liberties taken in the storytelling. While The Ten Commandments is largely from the book of Exodus 2, it also embellishes with extra-biblical works or legends (Philo and Josephus—ancient writings said to "inform the thirty years of Moses' life"), thus adding numerous plot elements that are not found in the biblical narrative. But rather than spoil "the show," they only served to draw me back to Exodus to read for myself the account of the life of Moses and his leading of the Israelites out of Egypt toward the Promised Land.
The Ten Commandments opens with a brief—and rare—on-screen narration by DeMille, originally recorded only for home-movie editions, who tells the viewer that this is "the story of the birth of freedom." Despite the film's nearly four hours in length, time flies in the formative years for Moses (Charlton Heston) as in the first scene he's a Hebrew baby floating in a basket on the Nile and the next he's all grown up as the Prince of Egypt. For now, though, the secret of his heritage is being kept by his adoptive mother Bithiah (Nina Foch) who is daughter of Pharaoh Seti (Sir Cedric Hardwicke). But her handmaiden Memnet (Judith Anderson) has hidden away Moses' Hebrew blanket that surrounded him when he was discovered. Will she keep the secret as her mistress commands her to?
Those who have read the biblical account know that Moses' heritage will see the light and play an important role in drawing him back to his people. But not before Moses is banished to the desert after he's killed an Egyptian and is revealed as a Hebrew. After a harrowing journey, he ends up in Midian where he works as a shepherd, marries Sephora (Yvonne de Carlo) and hears from God on Mt. Sinai. He must return to his people and be their deliverer. "I will put my laws into their hearts," God instructs from the burning bush. "And into their minds will I write them."
Recently on Movies at Home
Have something to say about this article? Leave your comment via Facebook below!
advertise with us
Example: "Gen 1:1" "John 3" "Moses" "trust"
Advanced Search
Listen to Your Favorite Pastors