Solid "Sentinel" an Enjoyable, Heart-Pounding Ride
Annabelle Robertson, Entertainment Critic
Thursday, August 31, 2006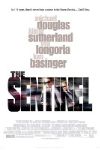 DVD Release Date:  August 29, 2006
Theatrical Release Date:  April 21, 2006
Rating:  PG-13 (for some intense action violence and a scene of sensuality)
Genre:  Thriller/Drama
Run Time: 108 min.
Director:  Clark Johnson
Actors:   Michael Douglas, Kiefer Sutherland, Eva Longoria, Martin Donovan and Kim Basinger
Pete Garrison (Michael Douglas) has been with the Secret Service so long he actually remembers – probably because he was there – the assassination attempt on President Reagan.  He's a hardworking agent with a solid record and exercises every morning at 4 a.m.  He's also a favorite among peers and superiors.  All but one, that is – David Breckenridge (Kiefer Sutherland).  Garrison and Breckenridge used to be best friends, but that ended when Breckenridge accused Garrison of sleeping with his wife – something Garrison still denies. 
Unfortunately, Garrison is sleeping with someone else's wife, and their relationship is in serious violation of Secret Service protocol.  Amazingly, there's never been a traitor in the Secret Service's 141-year history.  And, although the film never states it, Garrison's relationship is definitely a betrayal of the president.  After an assassination of one agent and another attempt on the president's life, however, it's obvious that a mole is among them.  When Garrison receives a blackmail threat and fails a lie detector test, he becomes the primary suspect.  Soon, he's on the lam, trying to prove his innocence.
Director Clark Johnson (a Ray Nagin look-alike) has 25 years of acting experience, having appeared in numerous cop shows like "Homicide: Life on the Streets" and "Night Heat," from the mid '80s.  He's also directed dozens of police dramas, including "Homicide," "Law and Order: SVU" and "The Shield."  He made his feature directorial debut with "S.W.A.T." (starring Samuel Jackson) in 2003 and has been consistently busy acting and directing.  He even makes a cameo in this film, as the assassinated agent. 
Fortunately, Johnson's experience shows in "The Sentinel," which moves at a brisk pace and achieves definite thriller status.  The script, by screenwriter George Nolfi ( "Ocean's Twelve" ), tends toward cliché at times, not only in its plotting and dialogue but also with stock characters.  For example, Eva Longoria (TV's "Desperate Housewives") plays a brainy rookie agent, and we're supposed to believe that she's smart enough to have made the cut in this elite group.  "Aren't you the recruiting poster?" quips Sutherland's character.  It's a stretch, to say the least, but men will no doubt enjoy her presence (which, of course, is the whole point).
The rest of the acting, on the other hand, is great, with Douglas sounding (and looking) more and more like his father and Sutherland giving us his very best Jack Bauer.  Martin Donovan ("Saved!") is great, as always, and Kim Basinger ("Cellular") is both elegant and credible as the first lady whose word is mum.
The insider's point of view of the Secret Service is definitely interesting.  We're escorted into that mysterious world and given unfettered access, Hollywood style.  According to the extra featurette included in the DVD, all the props and lingo are painstakingly accurate, down to the stationery and badges.  I can't help but wonder whether Abdullah Al-Qaida might be watching, however, so maybe this isn't such a good thing.
Recently on Movies at Home
Have something to say about this article? Leave your comment via Facebook below!
advertise with us
Example: "Gen 1:1" "John 3" "Moses" "trust"
Advanced Search
Listen to Your Favorite Pastors