Subtlety Not Lacking in The Darjeeling Limited
Annabelle Robertson, Crosswalk.com Contributing Writer
Thursday, February 28, 2008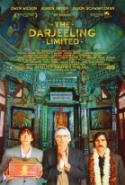 DVD Release Date: February 26, 2008
Theatrical Release Date: October 5, 2007
Rating: R (for language)
Genre: Comedy
Run Time: 13 min. (part 1) and 91 min. (part 2)
Director: Wes Anderson
Actors: Owen Wilson, Adrien Brody, Jason Schwartzman, Anjelica Huston, Natalie Portman, Bill Murray
In part one of this film (which is presented as a short film, titled Hotel Chevalier) Jack (Jason Schwartzman) is lounging around an upscale Paris hotel when he receives a phone call from his ex (Natalie Portman). She's in town, and she wants to see him. Reluctantly, he tells her to come up to his room. After some hesitation, they make love. The film ends.
The second film opens with Jack traveling on a train through India. He is joined by his two brothers. All three are carrying a ton of baggage—not just the metaphorical kind, but also a dozen or so vintage Louis Vuitton suitcases painted with whimsical designs. Peter (Adrien Brody) is about to divorce his wife, but has just learned that she is pregnant. Francis (Owen Wilson) is a wealthy control freak who can't stop telling his brothers exactly what to do and how to do it.
The men's luggage belonged to their father, who died tragically the year before. And the trip, which was instigated and organized by Francis, is intended to provide them with spiritual enlightenment and some well-needed bonding, after not speaking for more than a year. They may also visit their mother (Anjelica Huston), who fled to the Indian countryside after refusing to attend her husband's funeral. (She's now a nun.)
As the train moves along – to where, we are not entirely sure—Jack has a bathroom tryst with a female train attendant (Amara Karan). Francis tells his brothers about the motorcycle accident that nearly took his life—the reason he's wearing so many bandages. They talk. They smoke. And they take over-the-counter Indian pain medication. When Peter inadvertently allows his poisonous pet snake to escape, the conductor throws them off the train in the middle of the night.
The men make their way to a neighboring village, where they see some young boys navigating a raging river. They jump in to help, but one dies. They bring the body back, witness his funeral pyre a few days later, and depart to see their mother—despite a telegram informing them that it's "not a good time for her." They go anyway, much to her disappointment, and find their mother as cold and aloof as ever. After promising an outing the next day, she puts them to bed then disappears. It's time to go home.
Like most of director Wes Anderson's films, this is hardly "plot gone wild." Anderson wrote the script with Roman Coppola and Schwartzman and here, in the DVD release, both Hotel Chevalier (part one) and The Darjeeling Limited. can be viewed together. (Before, audiences had to go online to watch the first film).
Seeing both together definitely makes the project more interesting, although those looking for a gripping storyline are sure to be disappointed. It's subtle, Anderson's style. Very, very subtle. Subtle is always a stretch for Wilson—despite the fact that his part is the most energetic. And here, he's none too credible as a wealthy businessman. Fortunately, the other actors make up for—especially if you appreciate the nuances of deadpan delivery and blank facial expressions.
Here, Anderson portrays not one but three grown men seeking parental approval, as he often does. His standard overhead shot and slow-motion ending are also present—like all of his favorite actors. Even Bill Murray, who starred in Anderson's last film, The Life Aquatic with Steve Zissou, makes a cameo.
Recently on Movies at Home
Have something to say about this article? Leave your comment via Facebook below!
advertise with us
Example: "Gen 1:1" "John 3" "Moses" "trust"
Advanced Search
Listen to Your Favorite Pastors