10 Questions to Ask About 'The Passion'
Don Whitney, Baptist Press
Friday, February 20, 2004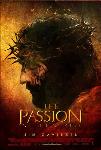 KANSAS CITY, Mo. — Judging by advance ticket sales and media attention, the upcoming movie by Mel Gibson, "The Passion of the Christ," already is one of the most popular and controversial films of our time. These questions will help in thinking through the movie or in discussing it with others.
1. Do you know why Jesus had to die?
When learning from "The Passion of the Christ" the facts about Jesus' suffering and crucifixion, it's essential to understand the reason for it. One of the most important of the many reasons given in the Bible why Jesus had to die was to receive the wrath of God in the place of others. "For all have sinned," God says in Romans 3:23. And because God is just and holy, He must punish those who have sinned. But because He also is loving, He was willing to send His Son – Jesus – to take the hammer blow of His wrath so that others might receive His mercy. When Jesus allowed Himself to be spiked onto that wooden cross, He was accepting God's curse so that sinners could receive God's blessings forever. As Galatians 3:13 puts it, "Christ redeemed us from the curse of the Law, having become a curse for us – for it is written, 'Cursed is everyone who hangs on a tree.'"
2. Do you know who really killed Jesus?
There is no single, earthly source to blame for killing Jesus. The Jewish religious leaders hated Jesus, so they arrested Him and delivered Him to the Roman official, Pontius Pilate, for execution. Pilate could have released Jesus, but he, too, shares responsibility because he succumbed to the influence of yet a third party who contributed to the death of Jesus, the crowd in Jerusalem who kept shouting, "Crucify Him!" (Matthew 27:23). In the end, however, it was sinners like me and you who killed Jesus. "While we were yet sinners," the Apostle Paul tells us, "Christ died for us" (Romans 5:8). No one can point a finger at any other person or group for the death of Jesus. Our sins were the reason Jesus had to be crucified.
3. Do you understand the role that God the Father played in the death of Jesus?
Ultimately, it was God the Father who killed His Son, Jesus. The Bible clearly says that Jesus was "delivered over by the predetermined plan and foreknowledge of God" (Acts 2:23). Jesus did not die by mistake. Although our sins made Jesus' death necessary, God brought it to pass. So in God's sending Jesus to receive His wrath so others could receive eternal life, sinners are saved from God, by God.
4. Do you realize why Jesus' death was different from the death of everyone else in history?
The death of Jesus was unique because His life was unique. Since Jesus never sinned, He never had to die; He chose to die. And because Jesus never broke the law of God, He could die as a substitute for lawbreakers. As 2 Corinthians 5:21 explains, God the Father "made Him who knew no sin to be sin on our behalf, so that we might become the righteousness of God in Him (2 Corinthians 5:21).
5. Do you know why Jesus cried from the cross, "My God, My God, why have You forsaken Me?" (Matthew 27:46)?
When God in His justice laid the crushing guilt of sinners upon Jesus, God in His holiness then had to reject His own Son as a sinner. As Jesus was suspended between earth and heaven, the prophecy of Isaiah 53:10 was fulfilled: "But the Lord was pleased to crush Him, putting Him to grief if He would render Himself as a guilt offering."
6. Do you know why Jesus' last words were, "It is finished" (John 19:30)?
Because of His love, God sent Jesus to be the propitiation – the wrath-taker – for the sins of people who did not yet love Him. "In this is love," 1 John 4:10 says, "not that we loved God, but that He loved us and sent His Son to be the propitiation for our sins." Once He had taken our guilt and God's punishment, Jesus triumphantly declared to His Father, "It is finished," and died.
Recently on Movie Features
Have something to say about this article? Leave your comment via Facebook below!
advertise with us
Example: "Gen 1:1" "John 3" "Moses" "trust"
Advanced Search
Listen to Your Favorite Pastors