A Decent Film, "Interpreter" Still Serves as Huge U.N. Ad
Annabelle Robertson, Entertainment Critic
Thursday, April 21, 2005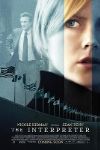 All of these contrivances are no doubt due to the fact that five people wrote this film, which suffers from a "too many cooks" syndrome. The script is further hindered by paternalistic overtones about Africa that are similar to the ones in Pollack's "Out of Africa." For example, why is Silvia's character, who is African – like all the other important African characters – white? Pollack again falls into this annoying cliché when he inserts African tribal chanting into his final scene.
Kidman and Penn both do a great job, although they lack chemistry. This film is a thriller, however, not a romance, and thankfully, Pollack does not succumb to the temptation to throw his lead actors in bed together, as we see in most modern thrillers. Both of their characters suffer from deep-seated grief, and Kidman and Penn both portray this well. In particular, Penn's subtlety makes for an outstanding performance – one that is quite the opposite of his role in "Mystic River." Secondary characters add dimension and the occasional humorous line to the film, as they should.
Liberals will be ecstatic about the film's message, which openly assures us about the great and noble institution of the U.N., and how diplomacy should be the first, last and only resort. "Words and compassion are the better way," Silvia says, "even if they're slower than a gun." Outside of the dove vs. hawk agenda we're being bombarded with right now from Hollywood, this is actually a good message. It's definitely Jesus' message, and it's one we should heed whenever possible. This is further underlined by Silvia's description of an African ritual that invites wounded individuals and families to forgive their tormentor. As she speaks, Silvia utters the best line that I've heard in a long time from a film. "Vengeance is a lazy form of grief," she says.
No doubt, much of the world's conflict today – just as much of the conflict within our own country, and even within ourselves – is due to our unwillingness to grieve our many losses in life. While attending seminary, I was required to visit a local mortuary and see a dead body, in preparation for dealing with the deceased and their families. "Psychologists are getting rich because we refuse to grieve our dead," the funeral director said. It's great wisdom that, sadly, is not always easy to practice. Grieving hurts and is terribly uncomfortable and inconvenient – precisely why we avoid it.
When it comes to the U.N, however, I've worked for them, and so has my sister (who spent 8 months in Iraq after the first Gulf War, working for the U.N.H.C.R.). So I know what a ridiculously incompetent organization it is. That its internal security officers are portrayed as being even remotely competent, when the U.N.'s international peacekeeping troops aren't allowed to fire their guns – even in the face of abject murder and mayhem – is laughable. (See "Hotel Rwanda" for a devastating portrayal of their ineptitude.) And when country leaders who have committed mass genocide serve as heads of committees "investigating" human rights violations – instead of being held accountable at The Hague for their crimes against humanity – it seems highly implausible that this organization is ever going to accomplish anything. I'm glad that the U.S. has stopped funding the overwhelming majority of the U.N.'s bloated budget, which rewards secretaries and other clerks – who often work no more than a few hours a day – with astronomical salaries and cushy benefits. Let Ted Turner keep paying for this, if he wants.
Recently on Movie Features
Have something to say about this article? Leave your comment via Facebook below!
advertise with us
Example: "Gen 1:1" "John 3" "Moses" "trust"
Advanced Search
Listen to Your Favorite Pastors