A Golfer and a Gentleman
Annabelle Robertson, Entertainment Critic
Friday, September 23, 2005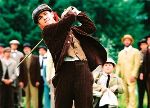 Annabelle:  Where'd you get your sense of humor?

Shia:  We're generally a very funny family, but my father is a standup comic.  He's also probably the oldest standing hippie in the world. He should be put in a museum. 
Annabelle: What was it like being the only white kid in an all-black magnet school?

Shia:  School was awesome.  It was really fun.  But when you get in situations like that, you develop your sense of humor.  It's your only defense.  For example, when I was really young, all these kids had Caesar cuts.  I wanted to fit in, so I showed up with my head shaved.  They called me skinhead.  I did all sorts of stupid stuff.  I even tried to be in a Mexican gang.
Annabelle:  Is it true that you were thinking about going to Yale?

Shia:  I got a letter they were scouting me for the drama department, but I never got accepted.  But it's too technical anyway.  It's like doing homework.  You know, the whole Meryl Streep thing.  They're pumping out some good actors, but it's not my thing.
Annabelle:  Do you think you might still go to college someday?

Shia:  Maybe, maybe, maybe.  I might.  I might.  I'm in the best college right now for what I want to do.
Annabelle:  What's the best thing about "The Greatest Game?"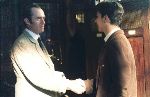 Shia:  This is a movie made by people who love film.  It wasn't made because we love golf.  We did it because we love Francis.  He was the first sports icon – the first sports hero.  He was the first Jackie Robinson, the first Michael Jordan.  He was Tiger Woods.  Tiger changed the face of golf, the color of sports, and became the highest paid sportsman ever.  But the difference is that Francis had it worse than Tiger – it wasn't color.  It was class.  Francis was the first immigrant hero.  It all had to do with money, and that's a sad thing, but things haven't changed much from what's going on today.  Here we are, in this fancy hotel.  My dad's here with me.  But we're not fancy people, so people look at my dad like he doesn't belong here.  The only difference is that back then, people could kick you out.
Annabelle:  What do you hope people will take away from this film?  Is there a message?

Shia:  A message?  Well, we didn't make the movie to raise flags and put people onto certain things.  The best thing that could happen is that people come out saying it was the best film that they've ever seen. My biggest joy has been bringing in these big, tough guys who never cry, to watch the film and seeing them cry.
Annabelle:  Hollywood is a wild place, especially for child actors who are all grown up.  How do you plan to stay grounded and not succumb to, let's say, the more morally challenging temptations you're going to face, especially as you make more money and become more visible?

Shia:  Just stay myself and not get lost in this business – stick to my art and my family. You also make friends with people – people like Jon Voight and Bill Paxton, people who are really grounded.  You stick with people like that, and you're going to be okay.

Starring Shia LaBeouf, Stephen Dillane, Justin Ashforth, Peter Firth and George Asprey, Walt Disney Pictures' "The Greatest Game Ever Played" opens in theaters everywhere on Friday, September 30, 2005.
Recently on Movie Features
Have something to say about this article? Leave your comment via Facebook below!
advertise with us
Example: "Gen 1:1" "John 3" "Moses" "trust"
Advanced Search
Listen to Your Favorite Pastors