"Alfie" May Serve As a Well-Needed Wake-Up Call
Annabelle Robertson, Entertainment Critic
Thursday, November 04, 2004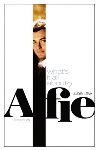 Release Date: November 5, 2004
Rating: R (for mild thematic elements and brief language)
Genre: Comedy/Drama/Romance
Run Time: 1 hr. 41 min.
Director: Charles Shyer
Actors: Jude Law, Omar Epps, Marisa Tomei, Susan Sarandon, Nia Long, Jane Krakowski
"Alfie" is a movie that most Christians will probably never see, and that is definitely the right decision. But for a few, however, this film may well serve as a well-needed wake-up call.
Alfie (Jude Law) is an Englishman in New York. He's handsome, charismatic and always quick with well-timed compliments, which win him the affection of women young and old. That Alfie is only a limousine driver, with no hope of ever earning a decent living, doesn't bother his many "dates" in the slightest. After all, a limo is a very convenient place to have sex – something Alfie loves to do, always with beautiful, willing women, and sometimes even with different ones on the same day. The more the merrier.
Alfie has a quasi-girlfriend of sorts (Marisa Tomei), but when she finds a pair of panties in his pocket, she dumps Alfie, leaving him to search elsewhere for creature comforts. Alfie's best friend, Marlon (Omar Epps) has also been dumped by his girlfriend, Lonette (Nia Long). But unlike Alfie, Marlon is ready to commit, if only he can get Lonette back. Unfortunately, he makes one fatal choice – trusting Alfie. When that situation explodes, Alfie is once again left alone, this time for the holidays. So Alfie does what he always does: he goes on the prowl yet again, finding his "Christmas miracle" in the form of yet another lovely woman.
Hook-up after hook-up, Alfie simply can't get satisfaction. Somehow, like the crack he saw in the statue of the Greek goddess Aphrodite after getting far too close, the women in Alfie's life never measure up to his exacting standards. And when one does, like Susan Sarandon's sexy Liz, he finds himself getting a dose of his own medicine. It leaves Alfie pondering the deeper questions of life.
Law does an excellent job with this role, demonstrating just how seductive false charm can be. We cringe as he manipulates one person after another, and I would expect an Oscar nomination. Tomei, as always, is spectacular, with a winsome charm that never falters. Equally good are Epps and Long, as victims of Alfie's narcissistic lust, Jane Krakowski, as one of his many mistresses, and the ever-talented Sarandon. Director Charles Shyer pulls it all together with an interesting twist: he has Law speak directly to the camera (the director of the original "Alfie," with Michael Caine, did the same). And the maneuver works, drawing us into Alfie's world as his reluctant confidante.
This script, which is based on Bill Naughton's original screenplay and modified by Elaine Pope and Shyer, is an unbelievably accurate portrait of a sex addict. I didn't see the 1966 version, but having ministered to the sexually broken for years, I am intensely aware of this issue. So, while I cringe at the film's excesses of nudity, innuendo and sexual situations – which appear to be a blatant attempt to titillate, and which will rightly disgust many, thus making it wholly inappropriate for most audiences – I also know that this is the life many men and women are caught up in. Desperate for acceptance and blessed with the good looks that open other's hearts and bedrooms, these people are blissfully unaware of what they are doing to others, much less themselves. Until, that is, they come to a reckoning.
Recently on Movie Features
Have something to say about this article? Leave your comment via Facebook below!
advertise with us
Example: "Gen 1:1" "John 3" "Moses" "trust"
Advanced Search