Bourne's Back and Better in The Bourne Supremacy
Annabelle Robertson, Entertainment Critic
Thursday, July 22, 2004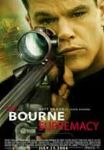 Release Date: July 23, 2004
Rating: PG-13 (Parents Strongly Cautioned - Some material may be inappropriate for children under 13) for violence and intense action, and brief language.
Genre: Espionage Thriller
Run Time: 110 min.
Director: Paul Greengrass
Actors: Matt Damon, Franka Potente, Brian Cox, Julia Stiles, Karl Urban, Gabriel Mann and Joan Allen
Bourne is back, and he's better than ever.
Having escaped from a slew of would-be assassins in this film's predecessor, The Bourne Identity, Jason Bourne (Matt Damon) is still having trouble with his memory. He and girlfriend Marie (Franka Potente, Run, Lola, Run) are still together, but their life is anything but simple. Bourne can't remember much of anything and is haunted by the few memories he does have. He still fears for his life - with good reason. A shadowy opponent has a hit on him, and he's also just been framed for murdering two CIA agents.
Ward Abbott (Brian Cox, Troy), a top-level CIA agent, wants Bourne dead. According to Abbott, Bourne's a "multi-million dollar experiment gone bad," an assassin who needs assassinating now that the top-secret Treadstone project, with its team of highly-trained killers, has been dismantled. Agent Landy (Joan Allen), who has just been tapped to handle the Bourne problem, disagrees. She wants Bourne for questioning. But Bourne can't even remember his name - and Abbott can't afford to let Bourne talk. So Bourne goes on a quest for answers as he tries to elude his enemies.
"This film is not so much about a man who's lost his memory…but about what happens when you've recovered your memory and realized that you're actually a bad man," said British director Paul Greengrass, who received wide acclaim for his haunting direction of Bloody Sunday, about the 1972 civil rights march in Derry, Northern Ireland. Greengrass has put his talents to use again, and this is a rare better-than-the-original sequel, largely thanks to him. Despite its graphic violence, the film also has a good (though subtle) message about making amends for wrongdoing, even though it perpetuates the popular Hollywood stereotype about government corruption.
Having already deviated so much from author Robert Ludlum's books, it's a shame that the filmmakers didn't go one step further and show a real scene of repentance. Bourne knows he's a killer, and his journey to unveil the past is his way of seeking forgiveness. He apologizes to the relative of one of his victims, but doesn't offer any other help, despite her meager situation and his wad of cash. He also neglects to cry out to God for forgiveness, something any murderer trying to change his life would do. It's a telling omission.
The characters in this movie have depth, and the dialogue manages to avoid cliché, allowing us to think even as we wonder about what's coming next - not an easy accomplishment for this genre. A buffed-up Damon does a great job with the role and is very compelling with his stoic but scared Bourne. The inimitable Cox also offers a phenomenal performance, handling the twists and turns of his character with great depth. From an artistic perspective, only two things hinder this film - the acting of Joan Allen and Julia Stiles.
Stile's performance, which alternates between melodramatic and lackluster, is not a surprise, and it's fortunate that Greengrass keeps her onscreen very little. But Allen's one-dimensional Landy is unexpected, given her three (merited) Oscar nominations, and it hinders the film. Thankfully, the plot is so well-planned and the pacing and other performances are so pitch-perfect that the damage is minimal.
Recently on Movie Features
Have something to say about this article? Leave your comment via Facebook below!
advertise with us
Example: "Gen 1:1" "John 3" "Moses" "trust"
Advanced Search
Listen to Your Favorite Pastors