Child Actor Dominic Scott Kay Shines in "Charlotte's Web"
Annabelle Robertson, Entertainment Critic
Tuesday, December 12, 2006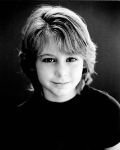 Boys are pigs.  At least that's what some girls say.  But, in the case of Dominic Scott Kay, it's true.  He is a pig – a very famous one.
Kay is playing the lovable Wilbur in "Charlotte's Web," the much anticipated Paramount Pictures and Walden Media film.  Based on the 1952 award-winning classic by E.B. White, "Charlotte's Web" tells the story of a friendship between Wilbur (Kay), farmer's daughter Fern Arable (Dakota Fanning) and Charlotte (Julia Roberts), a mysterious spider who conveys messages about Wilbur on her webs, saving his life in the process. 
Although Kay is just ten years old, he's already a veteran actor, with an astounding 17 films to his credit – including Steven Spielberg's "Minority Report," in which he played Tom Cruise's son, and Kevin Bacon's "Loverboy." Kay has also written and directed his own film, a documentary called "Saving Angelo" which is based on his real-life experience of saving and nursing a Boxer puppy to recovery.  It stars Kevin Bacon, Eric Close and Dana Barron, and all proceeds are going to Kay's pet charity projects, which include the Adopt-A-Star Greyhound Agency.
A sports enthusiast, a music fan, an animal lover (his father is the drummer for The Commodores) – this boy is many things. But what he is, first and foremost, is a Christian.  I chatted with him recently about dogs, cats, fish and guinea pigs … and what it's like to work with Julia Roberts.


---
So, you're just ten years old, and already you have a job – lots of jobs, in fact.  What's that like?
(Laughs.)  You know what, it's just fun!  (Dog barks.)
Is that your dog? 
Oh, we have so many animals!  Three dogs, three guinea pigs, a cat and a fish.  We have Harley, a cocker spaniel mutt; Jake, a Shitsu, and a new baby Australian shepherd named Charlotte.  We have Wilbur our fish, Templeton and Gary, guinea pigs.  Gary is named after the director [of the film].  Our third guinea pig is named after Axel Rose.
That sounds like one of Mom's decisions.
[Mother: That's right!  It was!]
Why did Gary get the guinea pig name?
That kind of fit him.
So Gary Winick ("13 Going on 30," "Tadpole") acts like a guinea pig?
Well, sometimes.  Gary has lots of personality – he has a full-on hairstyle, with hair a couple of inches long.  It does the wave over his head, naturally.
I take it that you became really attached to him?
Yes!  He is so much fun.  He's like a big kid.  Every time we recorded we would, during the breaks, make paper airplanes, and try and make it into the lamp.  He would tickle me or make me do laps around the studio.
This film is a little different from the other films you've made.
There's a lot of differences with the voiceover, but I had a blast. The whole time, every bit of it was so much fun.  Every time I went out to New Mexico to record with Julia, we had so much fun.
Why'd you go out there?
She had her babies at that time, and she thought it would be more natural.  She lives out there. 
Did you get to know her?
Yeah.
What was she like?
Super nice, always making jokes, very funny.  She'd say, "Go back to your trailer, Wilbur."  In one line, she catches a fly and says, "It helps everybody in the barn.  It helps the world.  It helps me have my dinner."  So we had an ongoing joke about the fly.
Recently on Movie Features
Have something to say about this article? Leave your comment via Facebook below!
advertise with us
Example: "Gen 1:1" "John 3" "Moses" "trust"
Advanced Search
Listen to Your Favorite Pastors