Child Actor Dominic Scott Kay Shines in "Charlotte's Web"
Annabelle Robertson, Entertainment Critic
Tuesday, December 12, 2006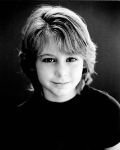 Is this your first time doing voiceover?
No.  I did young Samson in "The Wild."  And I do a British accent in a Pooh movie.  I'm a Heffalump.
I don't think I've seen that.  Is that coming up?
No….I think they canned it.
(Laughs).  That has to be discouraging.
Yeah.  It's happened more than once.
Did you get to meet Dakota Fanning on the set of "Charlotte's Web?"  Did you hang out?
Yes.  But I'm ten and she's twelve.
So you feel like she's a lot older than you?
Well….she's really tall.
Gotcha.  What was the best part about making the movie?
You know what, everything – everything was so much fun.  Recording it, getting to meet Gary and have so much fun in the studio.  I had a blast.
How did you prepare for the role?
I did parts where I ran around the studio, to get exhausted.  Wilbur runs and jumps, so I had to be out of breath a lot.  Recording is a lot easier, first of all. And it's fun.  I didn't prepare for it too much.  I went over the lines, but you can read it when you do it.  And the director will tell you ideas about how to do it.  It's pretty easy.
Had you already read the book?
I happened to be reading the book when I went for the audition.  I was finishing it.
Did you like it?
Oh, I cried.  "Charlotte's Web" is so great.
What do you do for school?
I'm home-schooled by my mommy.  It's great for acting.
Are most child actors home-schooled?
I wouldn't know.  Most of what I've seen is that they're just out of school with their school teacher on set, which is required.  When they're supposed to be in school, there has to be a teacher on set.
What's your favorite subject?
I love math.  One of my best subjects is language arts – spelling.  I love history.  I'm on my third "Little House on the Prairie" book.
You are very involved in your church.  Tell me a little about that.
We drive out to Simi every Sunday to attend Discovery, a really great church.  They have the best programs for kids with a giant stage.  It looks like the inside of a house.  It's a set, and they do all these skits with lights and smoke.  It's really cool.  They also have a fake street called 252 Street with fake walls and bike shops and movie theatres – a whole street inside.
What do they do with it?
You can go into each shop or movie theatre, and inside each one the different age groups meet.
You're involved in music, just like your dad – right?
I got attached to piano, the keyboards.  I play a lot by ear and I'm learning to read music.  I play "Journey" [I'm assuming he's referencing the group here … since "DSB" is a Journey song (?).] and "Don't Stop Believing."
Do you ever play Commodores music?
Yes.
What's your favorite song?
Oh, so many!  But "Night Shift," "Machine Gun."  And I love "Brick House."  Have you ever heard that one?
Oh, yeah.  (Humming a few bars.)  I actually danced to that song, many years ago, at a Commodores concert.  I'm very old, you know.  So tell me a little about your faith.  I hear you're a Christian.
From the beginning, I've always been a full Christian, totally into God.  He has blessed me with everything.  What he has done in my life is so great.
Recently on Movie Features
Have something to say about this article? Leave your comment via Facebook below!
advertise with us
Example: "Gen 1:1" "John 3" "Moses" "trust"
Advanced Search
Listen to Your Favorite Pastors