Dennis Quaid & Topher Grace: Keeping "Good Company"
Annabelle Robertson, Entertainment Critic
Tuesday, December 28, 2004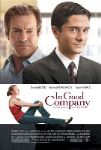 Unlike Quaid, Topher Grace is just beginning his career. 
Raised in Darien, Conn., Grace cut his teeth on high school plays and, like Quaid, dropped out of college, at the University of Southern California.  After deciding to pursue acting, he landed one of the leads in the popular television sitcom, "That '70s Show," in 1998.  During the past two years, he's been drifting toward film, with brief appearances in "Traffic" and "Mona Lisa Smile" and the male supporting lead in last year's "Win a Date with Tad Hamilton."
Despite his lack of formal training, Grace is confident but not cocky onscreen.  Like Quaid, he can also act – something that's not exactly commonplace in a world where, well, appearance often wins out over talent.
According to Paul Weitz, these were exactly the qualities he was looking for with "In Good Company," which he co-wrote, co-directed and co-produced with his brother, Chris Weitz ("About a Boy," "American Pie").
"Topher came in on auditions numerous times and a.) he made me laugh the most and b.) I believed that he appeared sharky enough that someone would give him that type of responsibility," Weitz says.  "Beyond that, he has a good sense of humor and a degree of vulnerability – but not the vulnerability where he's sort of winking at the audience and saying, 'Yeah, I'm a nice guy, don't worry.'  I thought it was very important that one believed that he could fire Dennis Quaid, because that was an important part of the jeopardy of the movie."
In the film, Quaid plays Dan Foreman, a 50-year-old advertising executive who has just learned that his wife is pregnant, even as his company is being taken over by a large conglomerate.  As Dan and his wife Ann (Marg Helgenberger) juggle college tuition for their daughter, Alex (Scarlett Johansson) and prepare to cope with a new baby, Dan fights to keep his job.  He is demoted then placed under a boss half his age, Carter Dureya (Grace), who has never run an ad campaign in his life, much less managed an advertising staff.  Then Dan discovers that Carter is dating Alex.
Like many of the films released during the last four years, "In Good Company" has a strong message about fathers and mentors, and focuses on what it means to be a dad under challenging circumstances.
"Here I am, a guy with two daughters and you're rooting for him to have a son," Quaid says.  "He's certainly surrounded by women and he winds up in the end happily having a daughter, but he's also gained a son in his relationship with Topher's character."
Grace agrees. 
"Carter has got everything on paper," he says.  "His parents were both absent, but he's got the right car, the right job, the right life and the right house. But I think that once I go home to Dennis' character's house, I start to actually see something that I really want, but I don't know how to get it. I don't know if Paul would agree with me on this, but I think that [Carter] is dating Dan's daughter as a consolation prize, instead of actually being in the family. Like, he would trade it all in just to be the fifth member of the family."
So there they sit – two opposites, who aren't really opposite at all – playing conflicting roles, who aren't nearly as far apart as they might seem.  It's life mirroring art, in another curious twist, with a message about growing older and wiser, yet still being at the top of your game, no matter what life may bring.
A bit like Quaid, who probably looks at Grace with a mixture of regret and relief.  And like Grace, who would probably give anything for the success that Quaid has enjoyed.  Anything, that is, except the personal holocausts that Quaid has been through.
So, while neither actor even remotely resembles old Ebenezer Scrooge, one can only hope that, as they look at one another, they both see what might have been, as well as what might still be.


Universal Pictures' "In Good Company," starring Dennis Quaid, Topher Grace, Scarlett Johansson and Marg Helgenberger, opens in limited release in theaters on Wednesday, December 29, 2004.
      
Recently on Movie Features
Have something to say about this article? Leave your comment via Facebook below!
advertise with us
Example: "Gen 1:1" "John 3" "Moses" "trust"
Advanced Search
Listen to Your Favorite Pastors