"Emily Rose" Effectively Explores God's Existence
Christian Hamaker, Contributing Writer
Thursday, September 08, 2005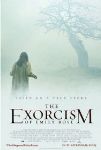 Release Date: September 9, 2005
Rating: PG-13 (thematic material, including intense/frightening sequences and disturbing images.)
Genre: Horror/Suspense
Run Time: 114 minutes
Director: Scott Derrickson
Actors: Tom Wilkinson, Laura Linney, Jennifer Carpenter, Campbell Scott, Shohreh Aghdashloo
If you were convinced of the devil's existence, would that prove the existence of God? "The Exorcism of Emily Rose" poses this question and points to answers that will be mostly encouraging to believers, but the film may leave enough lingering doubts to assuage a skeptic's troubled conscience.
The film opens just after the death of Emily Rose (Jennifer Carpenter), as Father Richard Moore (Tom Wilkinson) is taken into custody by the authorities. His subsequent trial on charges of negligent homicide in Emily's death provides the framework for Emily's story, told mostly through flashbacks during Father Moore's trial.
We learn that Emily, after leaving home to go to college, was overcome by forces beyond her control. After numerous fearful late-night episodes with these forces, Emily turns to Father Moore, who convinces her to stop taking her medication and to use "faith alone" to confront the darkness slowly enveloping her.
But Emily's tale is only half of the movie. The other half is the story of Father Moore's lawyer, Erin Bruner (Laura Linney, in a nice performance), an agnostic forced to reconsider the spiritual realm as she dives into the defense of her client.
On the heels of a previous client's exoneration, Bruner is handed Father Moore's case, and promised a ticket to the top of her firm. But her dream of having her name on the door of her law firm is put to the test when, warned by Father Moore of "dark forces" at work in the case, she is mysteriously awakened at 3 a.m., mirroring chilling incidents in Emily's life. Father Moore, recognizing the inner tumult behind Bruner's poised exterior, confronts her: "You're under attack," he tells her, explaining that a "spiritual battle" is underway. Yet his pleas to tell Emily's story to the jury are rebuffed by Bruner, who has been warned by her boss, at the request of Father Moore's superiors, to keep Moore off the stand.
Forced to confront her own skepticism about demonic possession, Bruner calls in a spiritual "doctor" who testifies that different personality types showcase different levels of receptivity to the spiritual realm ("hypersensitives," for instance, can see the dead).
But when another key witness refuses to testify, Bruner is forced to revisit Father Moore's plea to take the stand – and to reassess her professional ambition in light of supernatural events that occur during the course of the trial.
"The Exorcism of Emily Rose" is at its best in telling Bruner's story, to which Linney brings a quiet force, but the film falters in its depiction of her courtroom counterpart, Ethan Thomas (Campbell Scott) – chosen to prosecute the case against Father Moore because of his own Christian faith. Scott's role could have added more complexity to this otherwise fine film by showing the case's differing effects on people of the same faith. Instead, while viewers are invited to see the spiritual forces at work in Bruner's life, the film sheds little light on her Christian adversary in the courtroom. Is he perhaps a pawn of the "dark forces" at work in the trial? The filmmakers don't say, but Thomas' opposition to Moore's defense – and the short shrift the script pays his character – may lead viewers to think so, squandering an opportunity to provide a more balanced perspective on the nuances of Christian calling. The defect is all the more disheartening because it saddles Scott, one of our finest actors, with a role that gives him little to do.
Recently on Movie Features
Have something to say about this article? Leave your comment via Facebook below!
advertise with us
Example: "Gen 1:1" "John 3" "Moses" "trust"
Advanced Search
Listen to Your Favorite Pastors