Finding God and Grace in Les Misérables
Debbie Holloway, Assistant Editor, Crosswalk.com
Wednesday, December 19, 2012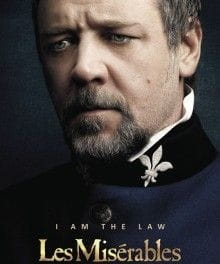 Jean Valjean was a thief. He broke parole, evaded the law, lied, and assumed several false identities over the course of his life. And, according to Hugh Jackman, he is "one of the great literary characters" and a personal hero of Jackman's.
Jackman (The Prestige) takes on the leading role of this classic literary convict in the new film Les Misérables, opening Christmas day. As fans of live theatre will know, Les Misérables began as stage musical 25 years ago, inspired by the massive Victor Hugo novel of the same name. It was produced by Cameron Mackintosh (Producer of Cats, Phantom of the Opera, and Mary Poppins on Broadway) and went on to be one of the most successful and beloved shows in the world. Now Mackintosh has paired up with Director Tom Hooper (The King's Speech) to bring this legendary musical to the silver screen.
Several recent films have tackled big questions of religion, God, and spirituality, such as Life of Pi and Lincoln. But in Les Misérables, it is hardly a question of where to find God. It would rather be a challenge to miss seeing him! He drenches the characters and the landscapes. He weaves in and out of the story, much like the elusive second-soprano note in a choral song; you don't even always notice it, and you can't quite pinpoint it all the time, but everything would be drastically different without its presence.
Christians today would do well to absorb the stories that Les Misérables tells about love, grace, and God's heart for the downtrodden.
"The guilty one is not he who commits the sin, but he who causes the darkness." –Victor Hugo, Les Misérables
At the beginning of the film we are introduced to Jean Valjean and Inspector Javert (Russell Crowe, Robin Hood), who face-off as Valjean is awarded his parole after 19 years of slaving as a prisoner of France. Immediately we discern that the reason these men will always be enemies is that they have a fundamentally different understanding of right and wrong. To Javert (a man employed by the government) the Letter of the Law is all that matters. Valjean broke the law and then tried to run from his punishment; thus, in Javert's eyes, he is worthy of death and could "never change" into a truly good man.
Valjean, on the other hand, has a different perspective. His only crime was attempting to steal a loaf of bread for his starving family, and he harbors fierce anger and bitterness for the years of servitude he's been forced to endure for what he sees as a justifiable, understandable infraction.
Javert swears to keep watch over Valjean on his parole, and Valjean soon finds out that the parole papers he is legally required to carry cause people (including potential employers) to scorn him and send him away.
Enter the Bishiop (Colm Wilkinson, who originated Jean Valjean on Broadway). If there ever was a character who embodied the grace and love of Jesus Christ in a film, it is the Bishop. This kindly old man invites a dejected Jean Valjean into his home for a hot meal and a bed for the night, offering him every consideration available to his humble manner of living.
Recently on Movie Features
Have something to say about this article? Leave your comment via Facebook below!
advertise with us
Example: "Gen 1:1" "John 3" "Moses" "trust"
Advanced Search
Listen to Your Favorite Pastors